Museum Kittens - The Treasure Map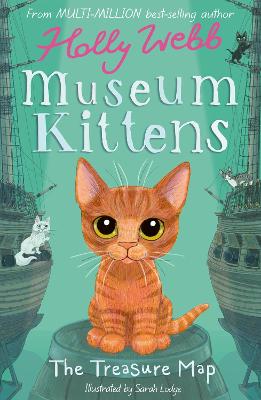 By Author / Illustrator
Holly Webb, Sarah Lodge
Genre
Early Readers & Young Fiction
Age range(s)
7+
Publisher
Little Tiger Press Group
ISBN
9781788953276
Format
Paperback / softback
Published
05-08-2021
Synopsis
Brave, clever and never more than a whisker away from adventure! When the museum's visitors are gone for the day, it's time for the cats to come out to play...  When the kittens overhear their enemies, the rats, whispering about a treasure map hidden in the museum, Boris is especially excited. Could the map belong to the legendary pirate queen Diamond Nell, whose ship - The Silver Lion - is on display in the museum? And can they stop the rats from getting their claws on the pirate's gold first?  The fourth in a charming new series from Holly Webb. Purr-fect for fans of the OTTOLINE books and THE ROYAL RABBITS OF LONDON.
Reviews
Lucy
My Year 2 class absolutely love this series and were very excited when I told them the next one had arrived! The museum kittens are a group of cats who get up to all sorts of mischief together and this story, Museum Kittens - The Treasure Map, is no different.
Each book starts with a lovely illustrated map of the museum so the children can imagine where each event takes place and how the cats progress on their adventures. Tasha, Bianca, Boris and Peter are ready for another escapade when they come across what they believe is an old pirate ship. When a couple of sneaky rats appear with a treasure map, Boris soon makes a plan to work out where the treasure is hiding!
This is a nice chapter book for children who are just starting to develop their independent reading and who are beginning to move away from picture books. It has relatively short chapters with quite large texts so is perfect for those who are beginning to build their reading stamina. It also has plenty of illustrations to keep them interested and to help with their imagination of the story. A lovely story!
145 pages / Reviewed by Lucy Newton, teacher
Suggested Reading Age 7+
Other titles