My Body Is a Rainbow: The Color of My Feelings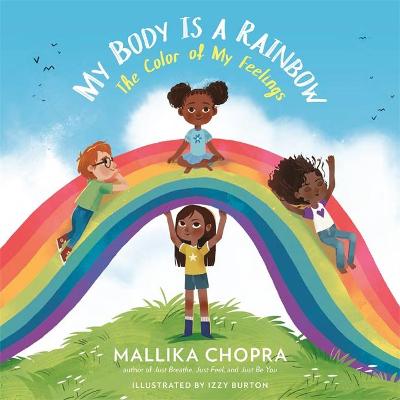 By Author / Illustrator
Izzy Burton, Mallika Chopra
Genre
Mental Health & Wellbeing
Age range(s)
5+
Publisher
Running Press,U.S.
ISBN
9780762499045
Format
Hardback
Published
29-07-2021
Synopsis
Did you know that your body is absolutely amazing? It can do so many things at the same time, explore the world both inside and outside, and help you feel the feelings deep down inside. When you start to feel big feelings, it's helpful to use colors, words, and breath to explore your body and to make yourself calmer and more at peace.

In wellness expert Mallika Chopra's debut picture book, she helps children imagine a rainbow of colors radiating from their body and combines this color connection with breathing exercises to help them relieve stress, tension, fears, and sadness and to feel happier and more at peace. My Body Is a Rainbow, adapted from her middle grade guidebook Just Feel, is sure to be a go-to resource for parents, caregivers, and educators to help preschool-aged children feel safe, creative, strong, loved, unique, wise, and perfect just the way they are.
Reviews
Sharon
This beautifully illustrated picture book by Maliki Chopra and Izzy Burton takes a child through a guided meditation using the colours of the rainbow and breathing as a focal point. To those unfamiliar with the concept of chakras, it could just be a book about rainbow colours… those of us who have a bit of an interest in the alternative therapies field, will spot the link straight away. Either way, it is a really effective way to help a child find a more peaceful balance to their feelings.
This book has already proved useful in my class… a child who has emotions management challenges used it to calm down after an incident at play time. Already it has proved it worth on our 'calming station' table! The child in question read the book and you could actually see them unwinding as they took calming breaths. I would recommend this for children over 7 to read for themselves and I'm certain My Body is a Rainbow would work as a read aloud for younger children. A great addition to any class or school library.
32 pages / Reviewed by Sharon Porter
Suggested Reading Age 7+
Other titles