My Embarrassing Dad's Gone Viral!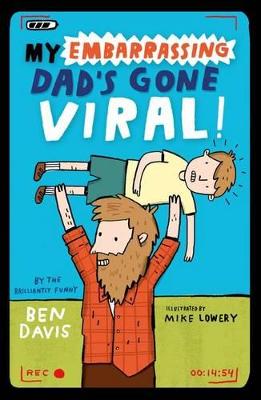 By Author / Illustrator
Ben Davis, Mike Lowery
Genre
Family & Home
Age range(s)
9+
Publisher
Oxford University Press
ISBN
9780192745842
Format
Paperback / softback
Published
04-08-2016
Synopsis
My Dad - the King of Cringe!What's a boy to do when his mum disappears, his dad moves him and his sister to the middle of nowhere, and his life takes a very swift downward turn . . . secretly launch his dad on the internet as the Next Big Thing, of course!'Hi guys!I bet every one of you knows what it's like to have an embarrassing parent - right? I bet they've done something so cringey that you wanted the ground to open up and swallow you whole. But let me tell you, my friend, NOBODY has a dad like mine. He takes embarrassing to a whole new level. If embarrassing was an Olympic sport, my dad would have, like, a gazillion gold medals.
'This hilarious story will have instant appeal to a YouTube-watching generation and is told through a series of vlogs. Combining Ben Davis's brilliantly-funny voice and Mike Lowery's amazingly-amazing illustrations is sure to make this a hit with readers everywhere. After all, everyone knows what it's like to have an embarrassing parent, don't they?
Other titles