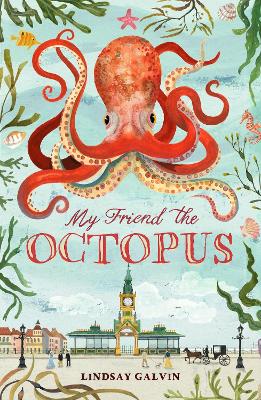 By Author / Illustrator
Lindsay Galvin
Genre
Historical Fiction
Age range(s)
9+
Publisher
Chicken House Ltd
ISBN
9781913696405
Format
Paperback / softback
Published
02-06-2022
Synopsis
From the bestselling author of Darwin's Dragons comes a high-stakes aquatic adventure, perfect for fans of The Murderer's Ape! England, 1893, and aquarium fever is at its height. Twelve-year-old Vinnie Fyfe works in the tea-shop at Brighton aquarium, and waits for her milliner mother to return from Paris. The arrival of a giant octopus changes her life for ever. Discovering a talent for art, Vinnie begins to draw the extraordinary beast. She soon realises she can communicate with the octopus through colour and - as a gripping mystery begins to unfold - discovers what true courage really means ...
The second middle-grade historical adventure by critically acclaimed Lindsay Galvin, author of Darwin's Dragons, this is a gripping Victorian mystery with a touching connection between a young girl and an octopus at its heart. It includes strong STEM and natural history themes with an underwater twist!
Reviews
Jacqueline
Vinnie Fyfe is 12 years old and lives with her mother in London. Her mother makes fine hats for rich ladies, hats designed by Vinnie, who is a talented artist. The year is 1877 and unexpectedly, Vinnie is taken by her mother to stay with an aunt in Brighton. Her mother than promptly disappears. New at the Brighton Aquarium is a giant octopus, bound to be a big attraction. Vinnie finds herself drawn to the octopus and the people who work there. She also meets some friends for the first time. If only she knew where her mother was, she could really enjoy her time in a new setting, learning so much that she had not known about before.
Lindsay Galvin's previous book, Darwin's Dragons, was also set in the past and became a word-of-mouth hit. I think My Friend the Octopus is even better than that, combining historical facts with interesting information about sea creatures and tying it all together in a good old-fashioned mystery. The story is exciting and gripping and I found I learnt a lot, knowing nothing at all about the giant octopus before reading this. The story is not predictable at all, in fact it quite boldly and unusually shows a leading character in a very poor light and the villain is truly villainous and quite scary.
As with Darwin's Dragons, the cover and inside flaps by Gordy Wright, are worth a mention and are works of art in their own right. The illustration and information is just breath-takingly displayed.
I would love to read this book aloud to a group of children and it also lends itself well to a topic about the Victorian era, which it captures so well. Hopefully this is destined to become a classic.
256 pages / Reviewed by Jacqueline, teacher
Suggested Reading Age 9+
Other titles