My Skin, Your Skin: Let's talk about race, racism and empowerment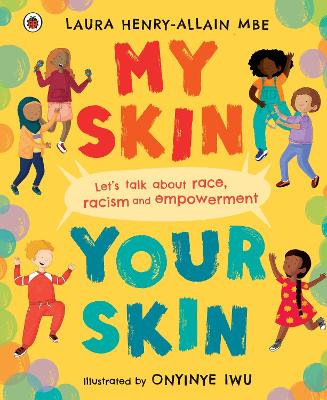 By Author / Illustrator
Laura Henry-Allain, MBE, Onyinye Iwu
Genre
Representation & Inclusion
Age range(s)
5+
Publisher
Penguin Random House Children's UK
ISBN
9780241512739
Format
Hardback
Published
21-10-2021
Synopsis
My Skin Your Skin is a powerful book to help children and adults have meaningful discussions about race and anti-racism. Most importantly, the book empowers children to be the best versions of themselves; to have self-love, self-esteem and self-worth, irrespective of their skin colour.

This book was specifically written by Early Years expert and children's media creator, Laura Henry-Allain MBE, to support parents, teachers and carers to explain what racism is, why it is wrong, and what children can do if they see it or experience it. It also explores how important it is for children to celebrate their achievements and greatness.

Fully-illustrated throughout by talented illustrator Onyinye Iwu, My Skin, Your Skin is aimed at children aged four and above.  Containing explanations on key words and concepts written in child-friendly, accessible language, with relatable examples, this book supports children's understanding in building an anti-racist stance from an early age.  It is perfect to read at home, and in classrooms, to support your child's life-long learning journey.
Reviews
Maria
This book is a must for every classroom as it covers such an important subject and in our classroom led to lots of discussions about race and diversity.
This excellent book helps support this subject by explaining key vocabulary, asking key questions and with captions which help support every child to know that we are all different and unique and it is never ok to be racist. The illustrations are a celebration of our individuality and our vibrant world and support and show how we all need to work together.
My Skin, Your Skin will be shared again and again to ensure all children understand this important message and know that they are all important members of our community. A fabulous book!
Picture book / Ages 4+ / Reviewed by Maria Aldred, teacher
Suggested Reading Age 3+
Other titles