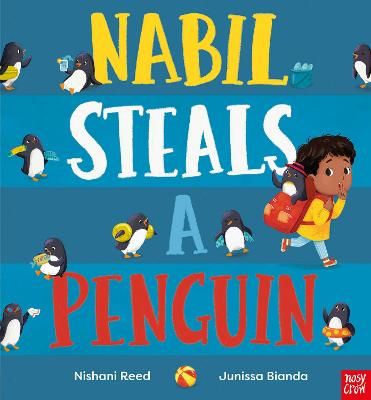 By Author / Illustrator
Nishani Reed, Junissa Bianda
Genre
Funny Stories
Age range(s)
3+
Publisher
Nosy Crow Ltd
ISBN
9781839945922
Format
Paperback / softback
Published
03-08-2023
Synopsis
Get ready for this fast-paced and big-hearted rhyming adventure about a penguin who loves curry!  When Pierre the penguin tries Nabil's delicious biriyani rice, Pierre decides to leave the zoo and go home with him! But Nabil will be in BIG TROUBLE if his mum finds out. And Pierre is EVERYWHERE - honking, dancing, bouncing on the bed and making a HUGE bubbly mess in the bathroom . . . Will Nabil's parents let Pierre stay?   
Brimming with personality, this hilarious story with a lovable, hapless hero is perfect for fans of Paddington. Find out what inspired the story with this Q&A from author Nishani Reed or enjoy this short reading by Nishani from Nabil Steals a Penguin:
Reviews
Amanda
Who doesn't love the penguins at the zoo? Well, Nabil takes it one step further in this wonderful new story by Nishani Reed and Junissa Bianda. He takes the penguin home with him!   
Throughout this fantastically written rhyming story, you follow the journey of a cheeky penguin and Nabil. Pierre the Penguin is quite the character, he thinks that Nabil's biryani rice is much more delicious than the fish that he has to eat every day. He waves good bye to his zoo friends and hops into Nabil's rucksack!
It is a joy to see the text an illustrations work perfectly together to portray the journey home from France and how Nabil introduces Pierre to his family. The illustrations add to the joy and humour of the text and will ensure that all who read it fall in love with it instantly.
Nabil Steals a Penguin is likely to become a firm favourite with many families and teachers alike. The rhyming verse makes it an absolute pleasure to read, while the illustrations give so much information to draw on when asking questions about the text. I would use this book for teaching about rhyme, about diet, about animal care and habitats, about cultures or just simply to share a love of reading.
Picture book / Reviewed by Amanda Shipton, teacher
Suggested Reading Age 3+
Maria
This rhyming text is a fun book to share with children; Pierre the penguin ends up in a rucksack, sailing across the sea and eating biryani rice! Can you believe that?
Nabil visits the zoo and Pierre the penguin returns to his home, hidden in his rucksack. Pierre is lively and is soon discovered by Nabil's mum who invites him to stay and enjoy her family feast. Nabil Steals a Penguin also explores Asian food and was lovely to share with the children at school.
Picture book / Reviewed by Maria, teacher
Suggested Reading Age 5+
Other titles