Narwhal: The Arctic Unicorn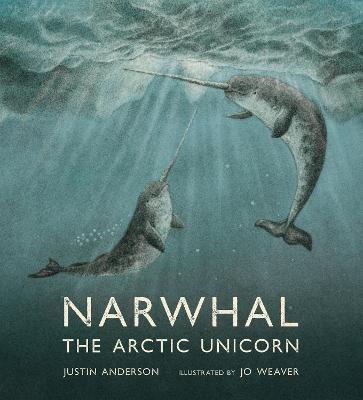 By Author / Illustrator
Justin Anderson, Jo Weaver
Genre
Animals
Age range(s)
5+
Publisher
Walker Books Ltd
ISBN
9781406396065
Format
Hardback
Published
02-06-2022
Synopsis
Discover the beautiful and fascinating unicorn of the sea, the narwhal, with words by a Planet Earth II producer and pictures by an award-winning artist. 
"Now the narwhal must begin their epic journey north. It's a journey with many dangers along the way..."  Join us on an icy journey into Arctic waters, as we dive down deep with one of the most enchanting creatures in the world - the narwhal. Learn about how narwhals have adapted to their freezing habitat, how they look after their young and all about their distinctive, mysterious tusks. Complete with an index and a conservation note, this is a wonderful addition to the Nature Storybook series, which showcase the stories of animals all over the world.
Reviews
Maria
The Mystery of the Narwhal's Tusk, is the introduction to this tale. It provides a short background to this strange creature once known as the 'Arctic unicorn'.
Narwhal - The Arctic Unicorn tells the tale of a pod of Narwhals; after feasting all winter and as the ice begins to melt, they must head North. It's a long journey of hundreds of miles and will take many months, with many dangers along the way. Searching for gaps in the ice maze, they take turns to surface for air when one is found, but this is not without danger as polar bears stalk the surface they are swimming under, hungry for a feast of narwhal meat. As the pod continues north, males fight with their tusks and the females pause to give birth to their tiny calf which they have been carrying for over a year. When they reach the High Arctic Island, summer has arrived and the ice has melted. The bays are busy and full of sea life. But, with predators following their calls, will the pod all remain safe? Will they all make the long return journey south when the winter returns?
Each page spread is illustrated in great detail, depicting the information given about the narwhal's journey. Additionally, to support the reader's understanding of this mysterious creature, alongside the narrative there is non-fiction text which gives facts linking to each part of the story. This book is bursting with facts about Narwhals which are presented in different formats.
All round, this is a great resource to teach text types and to research animals, their habitats, behaviours and diet.
Suggested Reading Age 5+
Other titles