National Trust: Beatrix and her Bunnies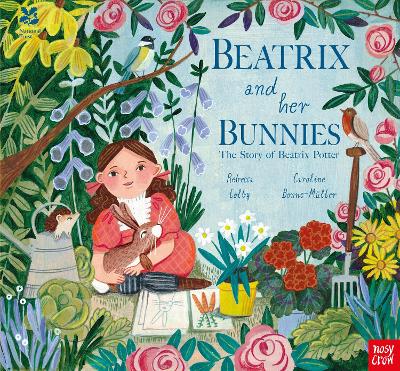 By Author / Illustrator
Rebecca Colby, Caroline Bonne-Muller
Genre
Picture Books
Age range(s)
5+
Publisher
Nosy Crow Ltd
ISBN
9781839941078
Format
Paperback / softback
Published
04-03-2021
Synopsis
Published in collaboration with the National Trust, this is a moving and inspiring picture book based on the life of Beatrix Potter.
Beatrix loves the countryside, but lives in a big, lonely house in London - if only she had a friend. Then she meets Benjamin Bunny and everything changes! They spend every day together playing chase and follow my leader. But when Benjamin dies, Beatrix is heartbroken. She decides to write about Benjamin's adventures and about her new bunny, Peter, who plays the tambourine and jumps through hoops. If she can publish her stories, she knows children will fall in love with Benjamin and Peter, and her bunnies will live forever.
This is the perfect gift for fans of Peter Rabbit, for young environmentalists and for animal lovers everywhere. Rebecca Colby effortlessly entwines the fascinating threads of Beatrix Potter's life: her deep connection with animals, her development as a writer and artist, her determination to be published and her role as a pioneering conservationist. A biography of Beatrix Potter's life is included, and the book is written in consultation with experts from the National Trust.
Every Nosy Crow paperback picture book comes with a free 'Stories Aloud' audio recording - just scan the QR code and listen along!
Reviews
Joanna
We all know the familiar story of 'Peter Rabbit', he is a household name and a book by Beatrix Potter can be found on every child's book shelf. Peter, Benjamin, Cotton - tale… we know them all and love them for their cheeky antics of breaking into Mr McGregor's garden to steal a radish. Despite the age of these stories (1902), they have certainly not lost their appeal, in fact becoming more popular with the adaption to television and film. However, do you know the story behind the cheeky rabbits?
Beatrix and her Bunnies is the story of their creator, who shared her love of rabbits and created a whole world for children of mischief and fun. Written like a story, this picture book grabs the imaginations of even the youngest of readers, 'Once there was a little girl named Beatrix'. It begins to tell the life story of a lonely girl who searched everywhere for her perfect playmate. Then one day, Beatrix is given a rabbit named Benjamin. Benjamin quickly became her best friend as she would play with him and sketch him all day long. But in the illustrations, as you watch Beatrix become older, you'll notice the grey hairs of Benjamin until sadly he dies.
Beatrix visits the countryside more and more and here she meets Peter. Beatrix, now a young lady, sits and writes and draws about her rabbits, hoping to have her story published for other children to share her love. Many publishers turned her away, until one day Beatrix's story, 'The tale of Peter Rabbit', is published and her story is shared around the world. Not only did Beatrix share her love of animals, she also shared her love of the countryside. As Beatrix grew older and wealthier, she bought a plots of land in the countryside, eventually leaving her land (15 farms and 4,000 acres) to the National Trust when she died.
Although a story about a real author, this picture book inspires! Beatrix comes alive in the pages and her story should be celebrated and told around the world. The illustrations are divine; each page capturing perfectly Beatrix's essence, beauty and love of the countryside and animals with bright colours and clear images. The picture book has carefully re-told her life reflecting her passion and love.
Young readers will delight in the illustrations, carefully pointing out features and emotions of the animals, whilst older readers will be inspired to write their own stories about their own pets. Because, after all, that was all Beatrix did, wrote a story about her pet - a rabbit named Peter.
This book would fit perfectly into an early year's environment. I can see a whole Creative Writing competition or extended writing piece written all about the mischief and adventures of a child's pet.
Picture book / Reviewed by Joanna Hewish 
Suggested Reading Age 3+
Emma
Beatrix and Her Bunnies - The Story of Beatrix Potter; A picture book biography exploring the childhood of Beatrix Potter and how she became one of the worlds most famous children's authors and illustrators. As informative as it is charming this delightful and inspirational read will delight picture book lovers and fans of Peter Rabbit.
32 Pages / Reviewed by Emma O Donovan
Suggested Reading Age 5+
Other titles