National Trust: Birds of a Feather: Press out and learn about 10 beautiful birds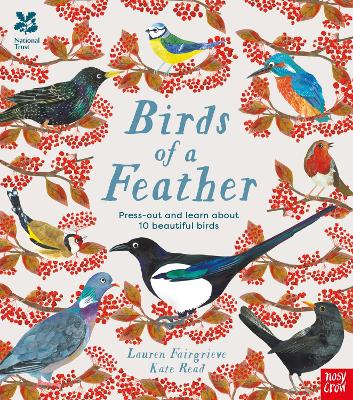 By Author / Illustrator
Kate Read, Lauren Fairgrieve (Junior Editor)
Genre
Animals
Age range(s)
5+
Publisher
Nosy Crow Ltd
ISBN
9781839942723
Format
Hardback
Published
01-09-2022
Synopsis
In this gorgeous gift book, create your own beautiful 3D birds before discovering fascinating facts about each species!   Press out pieces and slot them together to create 10 different irresistible feathered friends. After finishing your 3D flock, either hang the birds of a feather as stunning decorations or press them back into the sturdy board pages and hardback binding to be used again and again. Then turn to the back of the book to pore over 22 richly illustrated pages with dazzling full colour nature scenes alongside a gently informative text to treasure.   Covering everything from habitats and diets to myths and legends, this is a stylish, joyful introduction to a variety of European birds.
Reviews
Amanda
Birds of a Feather, published in collaboration with the National Trust, is a must have for every family who has an interest in nature and the world that they live in.  This beautifully illustrated book creates the perfect partnership of craft and facts. Press out and slot together the pre-prepared pieces to create ten stunning feathered friends, then discover amazing facts about each one. Each bird is carefully illustrated to ensure that they are depicted realistically to add to the joy of creating your own flock.
Every child should have the chance to identify the wonderful birds flying around them and this joyful and beautifully illustrated introduction to a variety of European birds is a fantastic place to start. After making the feathered friends, you can learn all about them from the second half of the book. Here you will find carefully written information text detailing where you might find them, what they eat and their family groups.
32 pages / Reviewed by Amanda Shipton, teacher
Suggested Reading Age 3+
Sharon
My KS1 children were fascinated by Birds of a Feather. S aged six decided he wanted to make all the birds and hang them in our classroom window to attract other birds from outside. He spent ages carefully assembling the beautiful modelled card birds. A aged five loved the birds and drew some detailed pictures of the models.
The text was a little challenging for the children to read on their own but they loved settling down with an adult to hear about each bird and trying to guess which model they were hearing about. Such a simple but effective book. The children loved it.
Discussions could be extended to habitats / life cycles, using the models, as well as looking at feeding habits and possibly completing a 'big bird watch' survey next January. My class are definitely inspired by this book. ...Must buy some binoculars for the ornithologists of the future!
32 pages / Reviewed by Sharon Porter, teacher
Suggested Reading Age 5+
Other titles