National Trust: Where's Mr Puffin?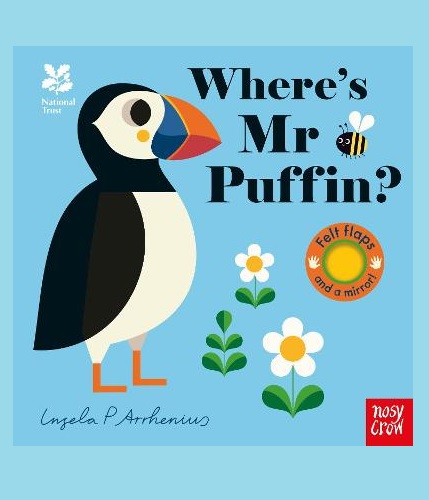 By Author / Illustrator
Ingela P Arrhenius
Genre
Baby & Toddler Books
Publisher
Nosy Crow Ltd
ISBN
9781788008792
Format
Board book
Published
13-01-2022
Synopsis
The original, award-winning Felt Flap series - perfect for babies and toddlers!Each title in this stylish series has five spreads with friendly characters to find behind colourful felt flaps.  In Where's Mr Puffin?, you're on the look out for Mrs Kingfisher, Mr Blackbird, Mrs Swan and Mr Puffin himself!  Lift the final flap and there's a surprise mirror - always a hit with the little ones.  Parents adore these books because they are beautiful but tough enough to withstand even the most enthusiastic of young readers. And children love them because they are just so much fun.
Published in collaboration with the National Trust, Other titles in the series include Felt Flaps Where's Mr Lion?, Felt Flaps Where's Mr Unicorn? and Felt Flaps Where's Mrs Ladybird? Felt Flaps Where's Mr Lion? won Sainsbury's Children's Book of the Year 2017. 
The felt flaps in this sturdy board book are perfect for little ones to turn and tug, which means you can get even the tiniest tot into books and finding the activity fun. Ingela Arrhenius' illustrations are a real bonus. They are bright and retro and sure to capture your baby's attention. A perfect book to share with very little ones. 
Reviews
Sharon
Where's Mr Puffin? is a super little book for our little ones in Nursery, especially with the link to our RSPB birdwatch week. So many of the children laughed and laughed at the mirror image at the end of the book. Our children learning English could join in with the repeating of the simple, repetitive sentences. Always a good strategy for learning a new language.
The board book is sturdy and the felt flaps look as if they will stand the test of time and usage. S (aged 3) said he wanted to learn some other bird names after reading this book. H (aged 3) wanted to find out more about puffins. Recommended for age 1+.
Board Book / Reviewed by Sharon Porter, teacher
Suggested Reading Age 0+
Other titles