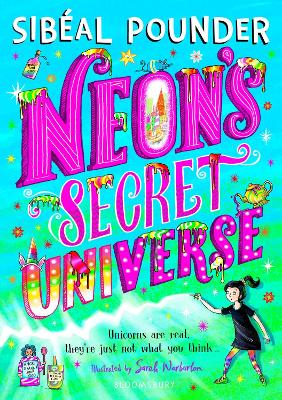 By Author / Illustrator
Sibeal Pounder, Sarah Warburton
Genre
Fantasy
Age range(s)
7+
Publisher
Bloomsbury Publishing PLC
ISBN
9781408894149
Format
Paperback / softback
Published
07-07-2022
Synopsis
Unicorns are NOT horse creatures with horns.  In fact, they are the most powerful magical beings on the planet and they look just like you and me. They live in a secret realm known as the Universe, and the horse with a horn thing was just something a unicorn called Greg made up to distract the humans - and it really worked!  But a young human girl called Neon Gallup is about to find the last remaining Universe portal opener (an old, battered green lipstick) and step into a zany world where magic is made with goo and the possibilities are endless!  Unfortunately, if there was one person you wouldn't want keeping the greatest magical secret of all time, it would be Neon Gallup...
Find out more from author Sibeal Pounder
Reviews
Jacqueline
There are real unicorns; they are just not how you imagined them at all. The horse with a horn description is completely wrong. Unicorns are in fact magical being that live in an alternative UNI-verse and the horse with a horn was invented by a unicorn called Greg. Neon Gallup finds all of this out when she accidentally ends up in the UNI-verse. The only way she can get home is to learn to command magical goo, otherwise she will be trapped in the UNI-verse forever.
Neon's Secret Universe is a magical story from the author of Bad Mermaids and Witch Wars. The first in a new series, it is full of larger-than-life characters and lots and lots of goo. It is completely whacky and utterly bonkers, whilst being entertaining and endearing at the same time. My eight-year-old pounced on it straight away as a fan of Sibeal Pounder's and I can see why she likes her books. It is so original and unconventional that you cannot guess what will happen next and the only thing you know is it will be something that you are not expecting. There are also quite a few jokes for the adult reader which will go entirely over the head of an average child- mullets and Mice Girls to name two. My only disappointment is that, as I had a proof copy, I never got to see Sarah Warburton's illustrations, which if the cover is anything to go by, will be as much fun as the plot.
The not too dense text and the size of the book male this the perfect adventure for Y3 and up, and I for one cannot wait until the next instalment.
224 pages / Reviewed by Jacqueline Harris, teacher
Suggested Reading Age 7+
Beverley
When Neon Gallup moves with her parents to the town of Brunty, she has no idea of the adventures in store for her! While exploring her new bedroom, she discovers an envelope containing an old green lipstick, and when she uses it to draw a line along her bedroom wall, she opens a portal into the UNIverse – the land of unicorns. However, she learns that unicorns are actually people like you and I. The idea of a unicorn being a horse with a horn was invented to distract the humans from hunting them, and it has worked well for many years.
Finding herself in Lumino, the capital city of the UNIverse, Neon learns that everything there is made from various kinds of goo, and all unicorns must learn how to command it so that they can make all of the things they need to survive. Neon has only a matter of days to learn this skill. If she succeeds, she will be allowed to go home. Befriended by Moya McGlow, Filly Spangle and Geldie O'Splendid, Neon begins her quest, but when she is confronted by Scarlett, the escaped Villain Goo, her adventure takes a very scary turn!
Neon's Secret Universe is a lovely, clever story, totally turning our ideas about unicorns upside down. It is full of wonderfully named, interesting characters and locations – I would love to visit the Goomart, which is "humming with magic"!
Neon wants a normal life but finds herself in a far from normal situation as she travels around Lumino. She is clever and resourceful, and, when necessary, brave and loyal. When Neon has the chance to return home to safety, she decides to stay and help save the UNIverse from the evil Scarlett. Her friends, Moya, Geldie and Filly, are a formidable team and they all work together to bring the story to a satisfying conclusion.
There is a lot of humour in the story, and it contains enough magic and adventure to keep the reader entertained from start to finish. I cannot comment on the illustrations, as my proof copy did not include them, which is a shame as I am sure they will add greatly to the flow of the book. However, this is the first in a series of stories about Neon; I thoroughly enjoyed meeting her and her intrepid band of friends, and look forward to seeing what adventures befall her when she next visits the UNIverse!
224 pages / Reviewed by Beverley Somerset, school librarian
Suggested Reading Age 7+
Other titles