Never Mess With a Pirate Princess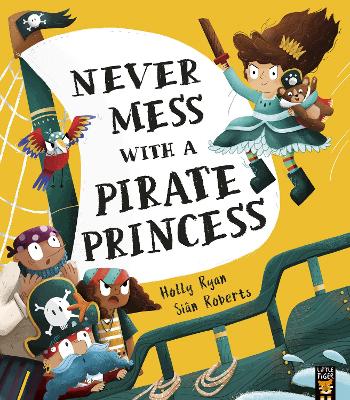 By Author / Illustrator
Holly Ryan, Sian Roberts
Genre
Picture Books
Age range(s)
3+
Publisher
Little Tiger Press Group
ISBN
9781788818704
Format
Paperback / softback
Published
05-08-2021
Synopsis
Princess Prue was sweet and fair, till PIRATES stole her teddy bear! Don't they know?! You NEVER mess with Prudence - pirate AND princess!
A feisty, mould-breaking heroine for adventure-hungry toddlers.
Reviews
Jessica
Never Mess with a Pirate Princess is a brilliant pirate adventure book which, refreshingly, has a female main character. This is the newest a tale from the Little Tiger publishing company who have a great range of stories for adventure-seeking children.
We meet a princess who goes by the name of Princess Prue who, at first glance, is the typical princess with her pink bedroom, fluffy bunny and her perfectly placed crown. However, Princess Prue is no longer sweet when she discovers that someone has taken her royal bear! A knight comes to her rescue to help her find the bear but this is no typical fairy-tale and Princess Prue wants to get involved with the action!
The rhyming narrative keeps the pace building throughout the story giving it an eventful, dramatic edge. We are with Princess Prue every step of the journey and are exhausted in triumph come the end. This story can be enjoyed by a mixed age and gender audience who are ready to invest in an adventure and join in with the fun. Never mess with a goat-riding princess!
32 pages / Reviewed by Jessica Bunney, teacher
Suggested Reading Age 3+
Other titles