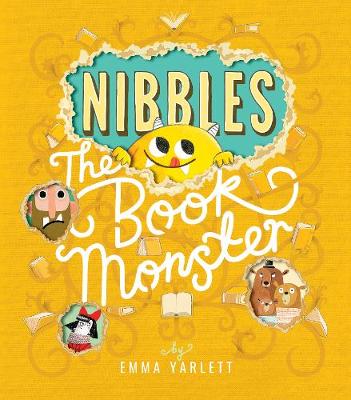 By Author / Illustrator
Emma Yarlett
Genre
Humour
Age range(s)
5+
Publisher
Little Tiger Press Group
ISBN
9781848692879
Format
Paperback / softback
Published
06-04-2017
Synopsis
Nibbles is a very naughty book monster - he's chomping, munching and nibbling his way through fairytales that don't belong to him! Can you help catch him and put him back in his own story?
Children will love to lift the flaps, peek through the peep holes, and chase Nibbles through a fantastical world of books, in this quirky story, exquisitely illustrated by Emma Yarlett (My Daddy's Going Away and Bear's Big Bottom). Jam-packed full of your kids' favourite fairy tales including Little Red Riding Hood, Jack and the Beanstalk and Goldilocks and the Three Bears.
Reviews
Linda
What a wonderful story to illustrate how readers 'devour' books - although in this case, the mischievous Nibbles the Book Monster does so literally, escaping from his wooden crate and diving into a pile of books where he promptly chews his way through, changing the endings of the stories beyond recognition as he does so.  'It wasn't me, it was a MONSTER!' declares Cinderella at the chaos Nibbles leaves in his wake. Nibbles becomes the hero in Little Red Riding Hood (who is not happy about this at all!). And he helps Jack make a quick getaway down the beanstalk by biting the giant on his bottom.
The pages he chews through from each of the fairy tales is presented as a 'book within a book', giving it lots of appeal to young readers, and the reader is also involved in Nibbles' capture at the end (although that's not a total success....)
Nibbles is a wonderfully appealing 'monster' and children will love the mayhem he causes. The story can also be used with older KS1 children to explore the idea of changing fairy tale endings by bringing in a new character. They will also enjoy reading the blurbs at the end of each story which have been nibbled - and so changed - by Nibbles; something they can practice when re-writing their own fairy tales!
Picture book / Ages 4+ / Reviewed by Linda Nicholson.
Suggested Reading Age 5+
Other titles