Nibbles the Dinosaur Guide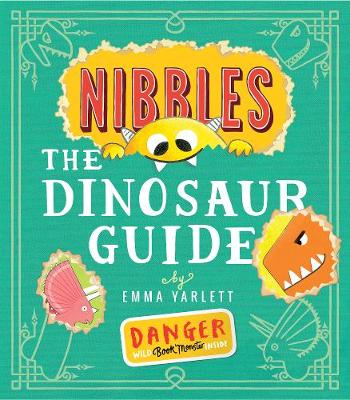 By Author / Illustrator
Emma Yarlett
Genre
Humour
Age range(s)
5+
Publisher
Little Tiger Press Group
ISBN
9781848696914
Format
Hardback
Published
07-09-2017
Synopsis
Nibbles the book monster is back! He's finished with fairy tales and has found his way into a book of DINOSAURS! Soon he's chomping through the Triceratops chapter and causing chaos among the Velociraptors. Uh oh - has Nibbles bitten off more than he can chew?
Packed with lift-the-flaps, peek-through holes and fascinating dinosaur facts, this hilarious new interactive picture book from award-winning Emma Yarlett (Nibbles: The Book Monster, Bear's Big Bottom) is perfect for all children with a HUNGER for books!
Reviews
Lucy
A fantastically colourful book! Nibbles: The Dinosaur Guide follows Nibbles, a book eating 'monster', as he comes across a range of other similar creatures on his travels. Nibbles is responsible for lots of different holes that begin to appear throughout the book - he just can't stop nibbling! As he continues his journey, he is warned about the dangers he may face but he doesn't seem too frightened! Can he survive his encounter with the stompy-footed Triceratops? Or will he wake the snoring Velociraptors who are enjoying their nap? His biggest challenge comes when he meets the Tyrannosaurus Rex at the end of the story - will he survive?
The book is filled with pictures, facts and fun flaps for little fingers to lift. It is perfect for any dinosaur-loving children willing to find out more about their favourite species. The factual information is presented clearly alongside colourful diagrams and pictures. A lovely book to enjoy reading in small groups, as a class or as a research tool for a dinosaur topic.
Picture book / Reviewed by Lucy Newton, teacher.
Suggested Reading Age 5+
Emily
Everyone's favourite monster is back and it appears that Nibbles, Emma Yarlett's book-eating monster, has developed a liking for non-fiction books. In Nibbles: The Dinosaur Guide, gigantic shaped holes have appeared in the Dinosaur Guide and the mischievous little yellow bookivore Nibbles is to blame.
Previously known for munching his way through fairy tales and generally making mischief in other people's books, Nibbles has turned his sights on a more nourishing read. Will a troop of charging hot-headed Triceratops stop Nibbles from chewing his way through their chapter of the book? Maybe the hungry herd of Diplodocus will eat Nibbles for lunch? If they don't manage to stop Nibbles from gnawing his way through each page then the grumpy Velociraptors will certainly catch him. Nibbles may have finally met his match in the Tyrannosaurus Rex, king of the dinosaurs, lurking at the end of the Dinosaur Guide. After all the chomping and nibbling our little book loving fiend has done, he may have finally bitten off more than he can chew.  Knowing our book-crunching rogue, he'll probably munch his way out of danger.
This book is packed with fabulous facts about dinosaurs, dino-jokes and a little rude humour, the kind that brings on the giggles. A gorgeous read from start to finish, certain to make little ones smile and beg for a second reading. Emma Yarlett's cheeky illustrations are a riot of colour and at times, quite literally, jump off of the page. The flaps and nibble holes all add to the drama and interactivity of the story. This is a book that will certainly be loved and read again and again. A must buy for every library, though no responsibility is taken for this wild little monster escaping again and nibbling his way through the pages of the other books on your shelves!
Picture book / Reviewed by Emily Beale, school librarian.
Suggested Reading Age 5+
Other titles