No, Nancy, No!: A Seaside Adventure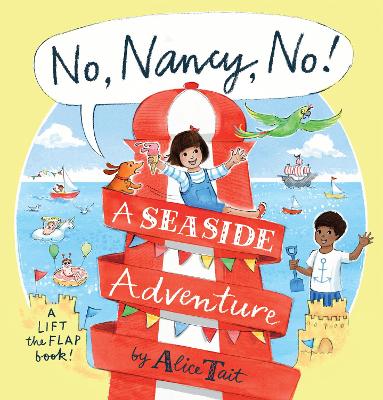 By Author / Illustrator
Alice Tait
Genre
Adventure
Age range(s)
5+
Publisher
Walker Books Ltd
ISBN
9781406394382
Format
Hardback
Published
05-05-2022
Synopsis
Nancy and her sausage dog Roger return for a summery - and mischievous! - day at the beach.
Nancy is visiting her cousin Jack at the seaside, when his cheeky pet parrot flies away. "After that parrot!" cries Nancy, and sets off in hot pursuit, racing across the bustling beach, the colourful funfair and even the foaming sea. But ... uh-oh! There's lots of mischief to be had beside the sea ... and Nancy is VERY mischievous! With plenty of flaps to open, a fold-out map, and an exciting pop-up pirate ship, this is an interactive read-aloud for all the family.
Reviews
Maria
No, Nancy, No! opens with a lift-the-flap invitation to visit cousin Jack and his parrot Pip… a perfect and enticing start to the story! Nancy and her dog, Roger, are ready to visit her cousin at the seaside. Dressed sensibly and looking ready to go, until… you lift the flap!
At the seaside, Nancy and Jack watch the sea glitter and smell the sweets smell of candyfloss and doughnuts. All seems calm until… you lift the flap and discover Pip the parrot has flown off! Across sunbathers, the Punch and Judy Show, kite flyers, the fairground, the sea and the donkey rides, a calm scene descends into chaos as Nancy chases Pip, and there's the echoing cry of 'No, Nancy, No!' Finally, deep into a cave, Nancy catches Pip. But it's not just Pip the parrot that she comes across in the cave… but a huge pile of golden treasure. Whose could it be? Pirates?
An action-packed, fun-filled story of cousins and their adventure at the seaside. The beautiful illustrations and the lift-the flaps add extra 'problems' and disaster to the story and keep the reader fully engaged, wondering what next..?
The book includes a range of text features, including; letters, narrative text, speech bubbles and maps. A great book to use in the classroom and homes, and one that everyone will love.
Picture book / Reviewed by Maria Faithorn, teacher
Suggested Reading Age 5+
Other titles