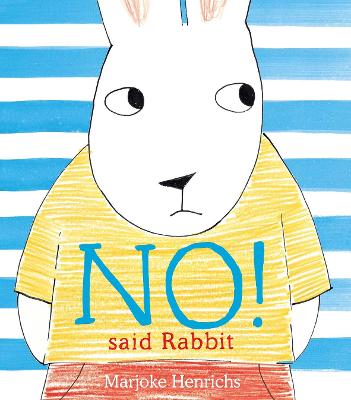 By Author / Illustrator
Marjoke Henrichs
Genre
Picture Books
Age range(s)
3+
Publisher
Scallywag Press
ISBN
9781912650828
Format
Paperback / softback
Published
05-05-2022
Synopsis
An everyday battle of wills between a mother and child where everyone ends up a winner!  Rabbit is happy doing his own thing, and he doesn't want to listen to his mum telling him to get up, get dressed, have breakfast, play outside, come inside and least of all... have a bath! NO, NO, NO! he says. But at last they hit on something they both love doing together.
Perfectly pitched and re-assuring for parents whose child is being contrary, and interactive as children will love to join in with all Rabbit's 'Nos' and will want to read the book again and again.Shortlisted for the Booktrust Storytime Prize, long listed for the Klaus Flugge Prize.
Reviews
Ashley
No Said Rabbit has beautiful illustrations that were enjoyed by my reception class. It's a lovely simple story that all the children could relate to. The children enjoyed joining in with the repetition of the word "NO!" and laughed out loud at some of the antics that the rabbit got up to. It is a heart-warming story which has a delightful ending, which made the class tell me that's what they like the best from their mums and dads at bedtime - a cuddle! I think this book would be enjoyed a lot by toddlers and pre school children, too.
Picture Book / Reviewed by Ashely Clayton
Suggested Reading Age 3+
Other titles