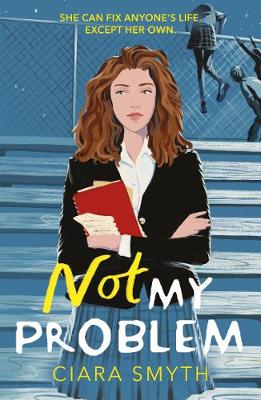 By Author / Illustrator
Ciara Smyth
Genre
Real life
Age range(s)
14+
Publisher
Andersen Press Ltd
ISBN
9781839130854
Format
Paperback / softback
Published
03-06-2021
Synopsis
When Aideen agrees to help ambitious class swot Maebh Kowalska deal with her crazy workload, she doesn't expect to end up reluctantly pushing Maebh down the stairs. With this, Aideen becomes the school 'fixer': any problem a student has, Aideen will sort it out, from stealing confiscated mobiles to breaking into parties. All she asks for is a favour in return. But Aideen's own life is a mess - her mam's drinking again, her BFF Holly is avoiding her and she's skipping school. Spending more time with the uptight (but annoyingly cute) Maebh and chatterbox Kavi, Aideen starts to wonder: can every problem be solved?
Reviews
Emelia
This is a story of new friendships, love, alcohol and trust. It is filled with emotion and has some references of a sexual nature.
Set in Ireland, Aideen finds that she is rather good at helping everyone else fix their problems but she can't fix the issues she faces at home. Aideen feels the need to be in control at home so that she and her mum don't get separated. She has a real fear of others knowing what is happening in her life including Ms Devlin, her P.E. teacher, but realises her new friends are worth the risk in the end.
Aideen is a typical teenager with secrets, moods swings and relationship issues. At times it felt like Aideen was the parent. I don't want to give too much away but it is definitely a book that I found I had to keep reading because I needed to know what happened next. Although I found it tricky to get into it at the start, I did enjoy it and would recommend it.
400 pages / Reviewed by Emelia Helliwell, school librarian
Suggested Reading Age 14+
Other titles