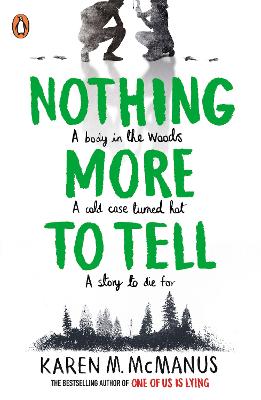 By Author / Illustrator
Karen M. McManus
Genre
Suspense & Thrillers
Age range(s)
14+
Publisher
Penguin Random House Children's UK
ISBN
9780241473689
Format
Paperback / softback
Published
01-09-2022
Synopsis
From the internationally bestselling author of Netflix's hottest new show, One of Us is Lying, comes a new, page-turning thriller . . . 
True crime can leave a false trail.   Four years ago, Brynn left Saint Ambrose School following the shocking murder of her favourite teacher. The case was never solved, but she's sure that the three kids who found Mr. Larkin's body know more than they're telling, especially her ex-best friend Tripp Talbot. He's definitely hiding something.   When Brynn gets an internship working on a popular true-crime show, she decides to investigate what really happened that day in the woods. But the further she dives into the past, the more secrets she finds.   Four years ago someone got away with murder. Now it's time to uncover the truth . . .

'Given that her high-school-based murder mysteries read like bingeworthy Netflix dramas, it's easy to see why queen of teen crime Karen McManus is a bestseller on both sides of the Atlantic' - Observer
Reviews
Linda
Nothing More To Tell is the latest crime/suspense story by the wonderful writer Karen McManus. If you love this genre but haven't read any of her titles before, I absolutely recommend them. This author excels in her craft, she understands her target audience and keeps you on the edge of your seat...
Four years ago, three teenagers were collecting leaves in the woods behind their school for a science project. Brynn didn't go with them as they had recently had a serious falling out. These three students, Tripp, Charlotte and Shane find the body of a well-loved teacher, Mr. Larkin. Even though circumstances (which I'm going to let you read about) clear these students, the case was never solved. What did happen that day? Why were Shane's fingerprints on the murder weapon? Why has Tripp distanced himself from his best friend Brynn?   Four years after this tragic event, Brynn gets the chance to work on a True Crime show. Her investigation is the death of her teacher; she wants to get to the truth of his murder and find justice for him. However, no one wants to open old wounds. What will be the consequences of bringing this murder up once again?
This exciting story, told in alternative chapters between Tripp and Brynn, is suitable for the 13+ reader, due to some of the sinister content. Nothing in too much depth, just enough to keep the reader turning those pages. The story would also be great for intervention groups and book clubs as there are so many discussion opportunities. This is another rollercoaster ride of a story from this author and an easy recommendation from me.  A great read - don't miss it.
368 pages / Reviewed by Linda Brown, school librarian
Suggested Reading Age 14+
Azra

- Age 14
I enjoyed reading this thriller. It is set in a small town where a much-loved teacher has been murdered and the world tries to move on - until a former student moves back and starts uncovering the secrets of the teacher and his murder. The author shows what is happening from the perspective of all the characters, so it is as if you have met all the characters and can try to understand their actions. This book tests your empathy and forgiveness for the characters and I would definitely read it again. Ages 12+.
Suggested Reading Age 14+
Other titles