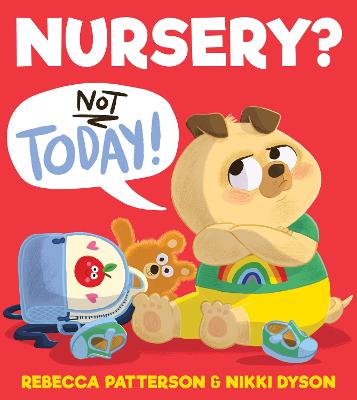 By Author / Illustrator
Rebecca Patterson, Nikki Dyson
Genre
School Stories
Age range(s)
3+
Publisher
HarperCollins Publishers
ISBN
9781405295291
Format
Paperback / softback
Published
30-09-2021
Synopsis
For any child who is anxious about starting nursery, this fun-filled story, brimming with positivity, is the perfect antidote!
It is Monday and Rosa feels very big and very, very grown up. She is going to NURSERY.
She paints a beautiful picture, sings the 'Moo Moo' song without any shouting, waits to play with the cars without grabbing or pushing. All day long, she is an absolute angel. She is the BEST at going to nursery.
But now it's Tuesday. And it's nursery ... AGAIN?!
Reviews
Lizi
Rosa goes to Nursery on Monday and has a very grown up day! She is Miss Lewis' star and has an action packed time, so action packed that when Dad says it's nursery again on Tuesday, Rosa can't possibly do it again!
Nursery? Not Today! is a funny book, written in much the same style as 'My Big Shouting Day!', that will appeal to pre-schoolers who have their own occasional 'no nursery!' days! It's an entertaining read that made me laugh, it went a little over my two year old's head but she enjoyed looking at the bright illustrations and talking about what Rosa did at nursery. It's good length for a picture book, with enough of a story to get involved with.
32 pages / Reviewed by Lizi Backhouse
Suggested Reading Age 3+
Other titles