Octopants: The Missing Pirate Pants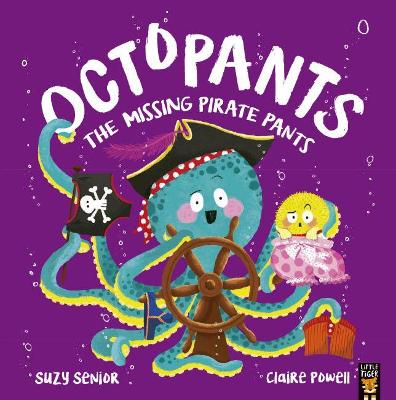 By Author / Illustrator
Suzy Senior, Claire Powell
Genre
Funny Stories
Age range(s)
3+
Publisher
Little Tiger Press Group
ISBN
9781801041652
Format
Paperback / softback
Published
03-02-2022
Synopsis
The long-awaited second book in the best-selling Octopants series from the hilarious and hugely talented Suzy Senior and Claire Powell!
Pufferfish has lost his pants!
Where COULD those undies be?
Ahoy there, Pirate! Step aboard -
Let's join the search and see!
Join Octopants, Pufferfish and their underwater pals on a pant-tastic adventure filled with pirates, parties and plenty of PANTS!  With its eye-catching, shiny purple cover this joyous story makes a perfect gift for fans of Pirates Love Underpants, Pants and Barry the Fish with Fingers.
Reviews
Kyle
Octopants: The Missing Pirate Pants is the sequel to Suzy Senior's 2019 debut Octopants and she has again teamed up with Claire Powell to create this fun, bright and vibrant under-the-sea tale.
Octopants, Turtle and Pufferfish return and in this rhyming story, we see them set off on a quest to find Pufferfish's missing pirate pants. They search high, low and even in the hair of a mermaid in their attempts to find them - but with no success. Finally, they make their way to the sunken shipwreck, where they stumble upon an underwater pirate party and eventually, the end of their quest.
This story is the perfect addition to any young child's picture book library. Its rhyming style accompanied by the wonderful illustrations allow the story flow effortlessly from page to page. This also makes it a great story to read aloud to an audience, thanks its opportunities to join in with the rhyming couplets. Many children will warm to the story instantly thanks to its similarities to the Aliens in Underpants series. I truly believe that Suzy Senior and Claire Powell have created something that has the potential to become the latest big series of children's books....Octopants is here to stay!
Picture book / Reviewed by Kyle Matravers, teacher
Suggested Reading Age 3+
Other titles