On the Move: Poems About Migration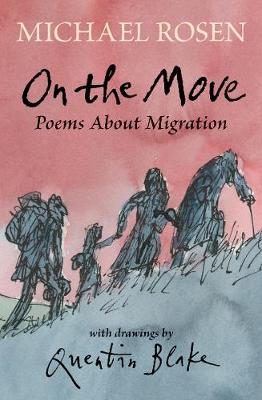 By Author / Illustrator
Michael Rosen, Quentin Blake
Genre
Poetry
Age range(s)
9+
Publisher
Walker Books Ltd
ISBN
9781406393705
Format
Hardback
Published
01-10-2020
Synopsis
Former Children's Laureates Michael Rosen and Sir Quentin Blake join forces for a personal and uniquely affecting collection of poems about migration.
"What you leave behind
Won't leave your mind.
But home is where you find it.
Home is where you find it."
Michael Rosen and Sir Quentin Blake join forces for a landmark new collection, focusing on migration and displacement. Michael's poems are divided into four: in the first series, he draws on his childhood as part of a first-generation Polish family living in London; in the second, on his perception of the War as a young boy; in the third, on his "missing" relatives and the Holocaust; and in the fourth, and final, on global experiences of migration. By turns charming, shocking and heart-breaking, this is an anthology with a story to tell and a powerful point to make: "You can only do something now."
Reviews
Alison
Michael Rosen opens this powerful collection of poems about migration with these words: 'Poetry is the migrant: it travels. / Poetry is the witness: it listens. / Poetry is the survivor: it lasts.//'.  This unique book brings together Rosen's personal memories, family history and contemporary concerns about the plight of migrants with Quentin Blake's distinctive and atmospheric illustrations. Its impact is considerable and, surely, lasting.
On the Move, Poems about Migration is in four sections. In the first, Rosen shares childhood memories of growing up in a Polish-Jewish family in post-war London. We are reminded of his deep interest in language, in this case related to his cultural heritage whether he is reflecting on his mother's mix of languages or his father's snatches of songs from around the world. His childhood lens revels in his discovery of the meaning of 'Shnobbra-gants' ('A Word', p.24). It's 'goose-beak' by the way but you need to read the poem! There are tastes too: his Bubbe (grandmother) making pickled cucumbers, his father's special concoction of 'matzo brei' (p.38), an unhealthy mix made illicitly for him when his mother is out. And there are understated but unmistakable experiences of prejudice encountered ('My Friend Roger', p.44; 'The New School', p.45).
The second section focuses on Rosen's parents' and grandparents' memories of World War 2. Seen through his childhood lens, it's not surprising that he was struck by an extraordinary juxtaposition of images recounted by his father who saw dinosaur skeletons from the Berlin Natural History Museum protruding through the snow in 1946: 'Great bones and skulls / rising up out of the snow / amongst heaps of broken brick / and broken glass' ('Skeletons', p.51). In 'Utah Beach' (p.59), the child watches Monsieur Piat who 'stands on the beach / his eyes disappearing into his face./ As is so often the case with Rosen's verse his spare, less-is-more text evoke so much: '… on this beach, / thousands of men jumped out of boats / and ran towards a gun that was placed / right were are standing.// Hundreds of men died.//'
Section three - ' The Migrants in Me' - reflects on and recounts the stories of 'missing' Jewish relatives prefaced by the incredibly moving 'The Absentees' (p.66): 'There are gaps, / there are blanks, / in the house / of my life;… there's a place / for them both / in the words / of my life//'. There are compelling narratives about uncles and cousins. His father didn't know what had happened to two French uncles (p.67): 'All I know is that they were there / at the beginning of the war, / and they weren't there at the end.//' And we learn much more about them in the next poem, 'Finding Out' (p.68).
'On the Move Again' is the final section offering sobering thoughts about the current global situation for migrants. A poem (p130) of the same name is the pivot for this section and indeed the whole collection: 'You know / You gotta go. / No time to grieve / You just gotta leave. … What you leave behind / Won't leave your mind. / But home is where you find it. / Home is where you find it. / Home is where you find it. / Home is where you find it. //'. The final poem in the collection 'Today' (p.134) concludes on this note: 'But you can do something now'. This precedes notes on how to help with information about charities and organisations that support refugees.
Scattered through the book are Quentin Blake's brilliant, scratchy and evocative illustrations stretching across double pages. Often a trail of migrants are making their slow, stooped way uphill in an anonymous landscape. In one they are trudging through water bowed down by the bundles on their backs. His muted palette of grey and purple is only alleviated on the cover as a group make their way against a sky of pink. Is this sunrise of sunset?
As I read 'Don't Drown' (p.108) I was reminded of the recent dramatic rise in contributions to the RNLI following a right-wing attack on the life-saving institution for running 'a taxi service for illegal immigration'. Rosen and Blake have highlighted the extraordinarily challenging migrations of millions of people and, like the RNLI, an unwavering commitment to recognise the humanity and human stories contained in each and every boat.
144 pages / Reviewed by Alison Kelly, consultant
Suggested Reading Age 9+
Other titles