Once Upon A Broken Heart: the New York Times bestseller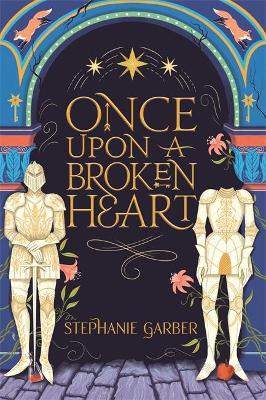 By Author / Illustrator
Stephanie Garber
Genre
Romance & Relationships
Age range(s)
11+
Publisher
Hodder & Stoughton
ISBN
9781529380903
Format
Hardback
Published
30-09-2021
Synopsis
How far would you go for happily ever after?  From the #1 Sunday Times bestselling author of the Caraval series, the first book in a new series about love, curses, and the lengths that people will go to for happily ever after.

For as long as she can remember, Evangeline Fox has believed in happily ever after. Until she learns that the love of her life is about to marry another, and her dreams are shattered.  Desperate to stop the wedding, and heal her wounded heart, Evangeline strikes a deal with the charismatic, but wicked, Prince of Hearts. In exchange for his help, he asks for three kisses, to be given at the time and place of his choosing.  But after Evangeline's first promised kiss, she learns that bargaining with an immortal is a dangerous game - and that the Prince of Hearts wants far more from her than she pledged. He has plans for Evangeline, plans that will either end in the greatest happily ever after, or the most exquisite tragedy . . .

'A sugar-crusted, poison-spiked romp through a vibrant world of fairy tale intrigue, tangled romance, and forbidden magic' Cassandra Clare, #1 New York Times bestselling author of The Last Hours.  'A dazzling mix of mystery, romance, and magic' Karen M. McManus, #1 New York Times bestselling author of One of Us Is Lying
Reviews
Linda
This new title by the wonderful Stephanie Garber is a spin off from her amazing fantasy series Caraval. Believe me when I say, that this too leaves you wanting more. Loved it, couldn't put it down! Evangeline Fox has always believed in having a 'happy ever after'. However, life doesn't always deliver these ideals as the love of her life is about to marry another. In her desperation to mend her broken heart and stop the wedding, Evangeline makes a deal with the Prince of Hearts (a wonderful Fate from the Caraval series), who in return for his help requests three kisses from her. She soon finds out that she has entered a very dangerous game with this mischievous character. What are his real plans for her? How far does she have to go to end the game and just live the life she wants?
This well written fantasy has love, broken hearts, curses, mystery and adventure that are totally suitable for the 11+ reader. It would also be a suitable story for book clubs as it has a few areas for discussions. It was great to revisit some of the old, loved characters from the initial series and of course, meet the new ones.
This author has developed a magical fantasy world that keeps giving. The reader becomes immersed and totally gripped. Her wonderful imagination keeps you guessing until the end, then leaves you wanting more. I need the next book now. Sadly, I've not got it but hope it won't be too long before I can visit this kingdom again. Get a copy and enjoy the read, you won't be disappointed.
416 pages / Reviewed by Linda Brown, school librarian
Suggested Reading Age 11+
Other titles