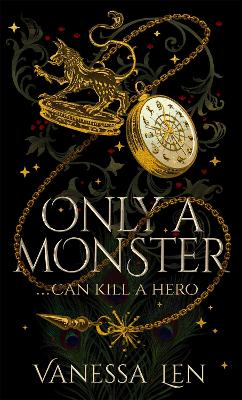 By Author / Illustrator
Vanessa Len
Genre
Fantasy
Age range(s)
14+
Publisher
Hodder & Stoughton
ISBN
9781529380064
Format
Hardback
Published
17-02-2022
Synopsis
'Mind-bending, heart wrenching, and unputdownable!' Stephanie Garber, Sunday Times bestselling author of the Caraval series and Once Upon a Broken Heart

It should have been the perfect summer. Sent to stay with her late mother's eccentric family in London, 16-year-old Joan is determined to enjoy herself. She loves her nerdy job at the historic Holland House, and when her super cute co-worker Nick asks her on a date, it feels like everything is falling into place.  Then a Good Samaritan attempt gone wrong sends Joan spinning through time, and her life quickly begins to unravel. Her family aren't just eccentric: they're monsters, with terrifying, hidden powers. And Nick isn't just a cute boy: he's a legendary monster slayer, who will do anything to bring them down.  As she battles Nick, Joan is forced to work with the beautiful and ruthless Aaron Oliver, heir to a monster family that hates her own. She'll have to embrace her own monstrousness if she is to save herself, and her family. Because in this story . . . she is not the hero.

Dive deep into the world of Only a Monster, where the line between monster and hero is razor thin: hidden worlds dwell in the shadows, beautiful monsters with untold powers walk among humans, and secrets are the most powerful weapon of all.   Book 2:  Never a Hero
Reviews
Morgan
In a world where monsters and humans live alongside each other, Nick, a human boy, catches Joan Hunt's eye, a half-human half-monster. As their love begins to kindle, betrayal strikes her. Two families: the Hunts and the Olivers, sworn enemies, disrupt their love. And tragedy strikes both of the families. Yet the heir to the Oliver line, Aaron, befriends Joan and they have to escape the hero by travelling into the past, where the world they knew changes in an instant. When the hero arrives in their time, they are in grave danger and have to be prepared for battle, as only a monster can kill a hero.
This story of love, betrayal and friendship meets the world of monsters and all that they know changes forever. This is a heartfelt novel with captivating messages and moments throughout. A book you can truly never put down.
368 pages / Reviewed by Megan Harkin
Suggested Reading Age 14+
Linda
What a debut novel, I loved every word of Only a Monster and possibly, even though it's still early into the new year, the best read of 2022... 16-year-old Joan has led a perfectly normal life until she is sent to spend the summer in London with her late mother's quirky family. She loves her Gran and her funny ways and knows that she is going to have a really good time. She finds herself drawn to the local historical house, Holland House, where she manages to get a job, work alongside a super cute guy, Nick; it seems like everything is falling into place, or is it?....
An unexplained incident, while she is waiting for Nick to arrive on their first date, changes everything. Her Gran has a lot of explaining to do, including that some of those bedtime stories that she tells her are not made up; they are real. Joan is a monster, with hidden powers. However, she doesn't get the chance to fully understand how they work, or even if she wants them. A tragedy happens... Nick is not who she thought he was and she finds herself having to work alongside an enemy of her family as her perfect world is falling apart. Who can she trust? Why, despite everything, is she drawn to Nick? How could she possibly have feelings for him!
This well-written debut novel is full of adventure, action and a slow burning romance that will totally engage any reader of 13+. The story would also be great for intervention groups and book clubs as it's a quick, exciting and engaging read. This is not a normal 'boy meets girl' romance/time travel story. The author has brought some new ideas into a stereotypical plot. After you read this you will want to keep maintaining social distance from strangers around you!
I simply loved it and I'm eager to read the next book in the trilogy to see how Joan copes with what she did at the end of this book, and what the consequences of her actions will be. My advice is to quickly get a copy, read and enjoy it.
368 pages / Reviewed by Linda Brown, school librarian
Suggested Reading Age 14+
Other titles