Never a Hero: The sequel to captivating YA fantasy novel, Only a Monster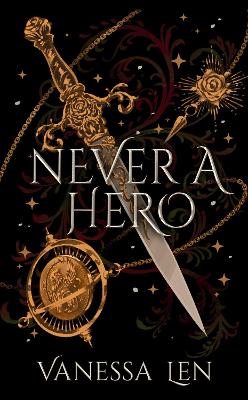 By Author / Illustrator
Vanessa Len
Genre
Fantasy
Age range(s)
14+
Publisher
Hodder & Stoughton
ISBN
9781529380118
Format
Hardback
Published
29-08-2023
Synopsis
Not every fight is won by heroes. Sometimes, you need a monster...  The sequel to the contemporary fantasy Only a Monster will take Joan deeper into the monster world, where treacherous secrets and even more danger await.

Despite the odds, Joan achieved the impossible. She reset the timeline, saved her family - and destroyed the hero, Nick.  But her success has come at a terrible cost.   She alone remembers what happened. Now, Aaron, her hard-won friend - and maybe more - is an enemy, trying to kill her. And Nick, the boy she loved, is a stranger who doesn't even know her name. Only Joan remembers that there is a ruthless and dangerous enemy still out there.

When a deadly attack forces Joan back into the monster world as a fugitive, she finds herself on the run with Nick - as Aaron closes in. As the danger rises - and Nick gets perilously closer to discovering the truth of what Joan did - Joan discovers a secret of her own. One that threatens everyone she loves.  Torn between love and family and monstrous choices, Joan must find a way to re-gather her old allies to face down the deadliest of enemies, and to save the timeline itself.

Praise for the Only a Monster series;  'Heart wrenching and unputdownable' Stephanie Garber on Only a Monster.  'A fantastic, immersive read' Naomi Novik.  An absolute page-turner' Chloe Gong.  'Captivating' Hafsah Faizal.  'Phenomenal' Adalyn Grace.
Reviews
Linda
At the end of book one, Only a Monster (which I highly recommend you read), Joan made some decisions that would have consequences that she could not imagine... Never a Hero (book two) will draw you in from the very first page, as you can feel the tension, the atmosphere almost immediately. What has Joan done? It's hard ignoring Nick, but he's a different person now, and staying away from Gran and the rest of the Hunt family, it all really hurts but it's necessary. However, things all change when Nick walks into the bakery shop where Joan works... Joan is the only one to remember what happened when she changed the timeline. Now, Nick doesn't even know her name and her friend Aaron, well, he's trying to kill her.
A deadly encounter from the monster world forces Joan back into the place she has been desperate to avoid. She's on the run as she has a forbidden power inside her that she doesn't know how to use or control. In order to save the present timeline from being destroyed, she must contact her old friends and convince them to help her wipe out her deadliest enemy yet. How will she do it? As she is now a fugitive, who will she be able to trust?
This well written, captivating sequel will take Joan deeper than ever before into the monster world, where secrets and even more danger await. The book will engage any reader of 13+. The story would also be great for intervention groups and book clubs as it's a fast-paced book that's full of action and excitement. This is not a normal romance/time travel story. The author has brought and developed new ideas into the plot that fully engage the reader and immerses them into the monster world. I could not put this down, loved every word and wish I had book three to continue the journey with this author's fantastic characters.
496 pages / Reviewed by Linda Brown, school librarian
Suggested Reading Age 14+
Other titles