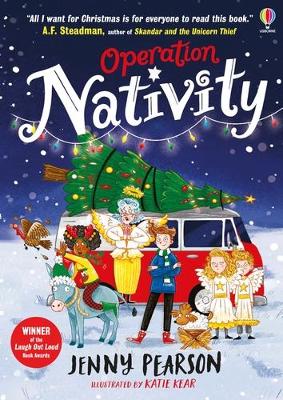 By Author / Illustrator
Jenny Pearson, illus Katie Kear
Genre
Funny Stories
Age range(s)
7+
Publisher
Usborne Publishing Ltd
ISBN
9781803705033
Format
Hardback
Published
13-10-2022
Synopsis
When Oscar and Molly rush outside to investigate a crash in the night, they're not expecting to find a dazed Angel Gabriel wandering around their grandparents' back garden. And they're certainly not expecting to find themselves in a race to save Christmas. But if they don't track down a missing shepherd, wise man, donkey and the actual Mary and Joseph, who've all crash-landed in Chipping Bottom, not only will Christmas cease to exist, but they will too.  Operation Nativity is on.  Featuring fun festive activities to try with your family!
"All I want for Christmas is for everyone to read this book." A.F. Steadman, author of Skandar and the Unicorn Thief.  "A gorgeous, heartwarming story full of hope, humour and love. The perfect gift for Christmas." Hannah Gold, author of The Last Bear. 
Reviews
Sam
Operation Nativity is a fabulously funny story that is the PERFECT Christmas adventure; full of laughter, family and friendship, all tied up beautifully with the magic of Christmas.
Oscar and his family have been invited to spend Christmas with his Grandparents at their home in Hampshire. Knowing how Oscar's Grandmother likes everyone to be involved in her annual nativity 'extravaganza', his parents are understandably reluctant although with the news that Oscar's Grandfather is unwell, they feel that this year they really ought to be there. After a long journey the family arrive at their Grandparents' home; Oscar and his sister Molly are understandably excited and unable to sleep, so when they hear a tremendous crash outside, they rush to investigate. However, nothing could have prepared them for what they find!
Sadly, it's not the big chap with a white beard and red suit that Molly had hoped for, but a rather dazed Angel Gabriel, wandering around their Grandparents' garden. It seems that the Archangel's Christmas declaration as we know it, has gone disastrously wrong, he's 2000 years ahead of time and nowhere near Bethlehem! Having not only lost 'the main cast members' of the original nativity, the Angel Gabriel also seems to have lost his celestial powers, so he is clearly going to need Oscar and Molly's help if he is to find Mary and Joseph before Christmas, and everything associated with it is gone forever. And so, Operation Nativity is born, and the race to save Christmas begins…
Operation Nativity is full of all the things that make Christmas special; a delightful story all about family that captures perfectly the somewhat chaotic spirit of Christmas, while highlighting that being with family is what really matters at this time of year. To any primary school teachers reading this: Operation Nativity by Jenny Pearson is a MUST for the Christmas class read! A cracking Christmas tale that will have readers routing for Oscar as they giggle their way through each brilliantly illustrated, laugh out loud chapters.
336 pages / Reviewed by Sam, teacher
Suggested Reading Age 7+
Other titles