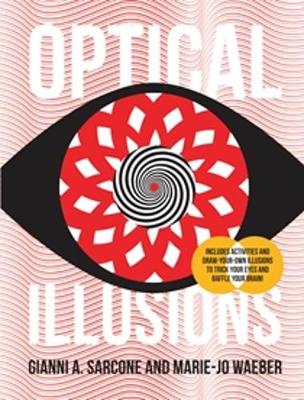 By Author / Illustrator
Gianni Sarcone, Marie-Jo Waeber
Genre
Adventure
Age range(s)
9+
Publisher
QED Publishing
ISBN
9781784938475
Format
Hardback
Published
19-10-2017
Synopsis
Winner of the Royal Society Young People's Book Prize 2018

The brain is an amazing thing, but it doesn't always get things right when it comes to sight. This book is here to explain why, with astounding images, baffling puzzles, and simple reveals which show the reader how each trick works.

Templates included at the back of the book reveal answers and aid the creation of astounding illusions. The science behind each element will be simply explained in an engaging way, to encourage the reader to find out more each time.

Throughout the book will be chances for the reader to get hands-on with the illusions, with step-by-step experiments, or tips on how to draw your own \"moving\" optic art on paper or on the computer.
Reviews
Jacqueline
Most kids and many adults find optical illusions fascinating. There are many books available on the subject but this one is a bit special. Firstly, there is the amazing front cover, complete with moving images and striking effects. Secondly this book really explains how the illusions work and why, adding some real science into the mix. The book begins with an explanation about how you see and how your eyes work. It also explains why optical illusions work, Then the other pages show different optical illusions and explain each one in clear and easy to understand ways. Whilst I've seen some of these illusions before, many of them I hadn't. The book then moves on to some experiments to try out illusions for yourself, which is another way in which it differs from the average illusion book. Each experiment is clearly written and children would be able to follow them quite easily. I tested this book out on my son, who at nine years old is the target age range. He absolutely loved it, exclaiming that the pages were cool and so interesting. He then proceeded to tell me in enormous detail which of the experiments he wanted to try out and what he would need to do them. His view, and I agree with him, is that this book is most suitable for 8-12 age range, as the reading would be fairly demanding for a younger child, as would the instructions. This book would make a lovely gift for a curious child or would be nice to have in a classroom, though I'm not sure the amazing cover would withstand the rigours of thirty children! 96 pages / Ages 8-12 years / Reviewed by Jacqueline Harris, teacher.
Suggested Reading Age 7+
Other titles