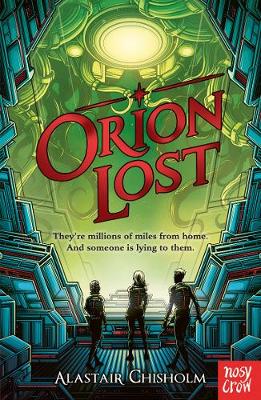 By Author / Illustrator
Alastair Chisholm
Genre
Science Fiction
Age range(s)
9+
Publisher
Nosy Crow Ltd
ISBN
9781788005920
Format
Paperback / softback
Published
09-01-2020
Synopsis
The transport ship Orion is four months out of Earth when catastrophe strikes - leaving the ship and everyone on board stranded in deep spaceSuddenly it's up to thirteen-year-old Beth and her friends to navigate through treacherous and uncharted territory to reach safety. But a heavily-damaged ship, space pirates, a mysterious alien species, and an artificial intelligence that Beth doesn't know if she can trust means that getting home has never been so difficult...Hugely gripping, with incredible twists and a fast-paced, action-packed story, this is an unputdownable science fiction adventure - perfect for fans of Star Wars.
Video - Author Alastair Chisholm introduces Orion Lost
Reviews
Review

- Age 11
This book was really fun to read, I loved the twists and turns in it - it made it seem a bit more like a mystery, with space pirates etc. Keep up the good work.
Suggested Reading Age 9+
Charlotte
I absolutely loved spending time in outer space reading Orion Lost; not a given for me as I tend to avoid books set in the future. In the story, a number of families are heading into space to a far galaxy and a new life and the plotline seems to suggest that the excitement is all to come, with the reality of life on a planet so different from Earth bound to present challenges. To reach their new home requires their ship to 'jump' time zones and each time the ship jumps all families follow the protocol of going into artificial sleep. Beth, one of the children on board, wakes up from one such jump to find that apart from 4 other children, all the grown ups are still asleep and that she, on the basis of having achieved 0.5 marks more in her leadership class than the son of the ship's captain, is in charge of getting the ship to its destination.

The book can be read on several levels; it is a fantastic, gripping story, with totally unexpected plot twists, but it is also a fascinating study in leadership and what qualities make for the best leaders - the book seems to suggest that healthy self-doubt is a far more useful tool to those who lead than simply being a leader by birthright. I really enjoyed it!

Reviewed by Charlotte Weatherley / 368 Pages / 
Suggested Reading Age 11+
Mary
Orion Lost is an incredibly enjoyable, fast-paced classic science-fiction adventure. The story opens with the Earthship, Orion, sending out a distress signal. Immediately, I was intrigued and desperate to find out what the fate of the ship was; however, the story then very cleverly moves away from this scenario and takes the reader through the events which led up to the distress signal being sent, and beyond.

Beth McKay and her parents are aboard the Orion leaving Earth in order to colonise Eos Five, a destination that can only be reached by making 'Jumps' through space, but the Jumps require everyone to be put to Sleep. After one such Sleep, Beth is awakened by the Orion's computer hologram, Ship, to the news that she is now the Captain as none of the adults can be woken.

Only six crew members are left to run the vast ship - and they are all children, each with a talent which proves integral to their survival - if only they can learn to trust each other and work together. The young crew face many difficult challenges: manning a large spaceship which has been damaged and is in need of repair; facing space raiders and an alien species, unsure of which is more dangerous; but, perhaps the biggest challenge comes from the secrets they slowly begin to unravel as they discover there may be an enemy within...

This story is brimming with twists, danger, fast-paced action and perfectly timed revelations. The writing is superbly immersive, creating a believable space setting and technical language; a complex and exciting plot; and, engaging characters who are anything but perfect. The children are resourceful, resilient and gutsy, and learn that there is a real strength in believing in yourself, in the bonds of friendship and in working together to overcome seemingly insurmountable odds.

This is a challenging, but thoroughly gripping, space adventure for children of 10+ which raises some excellent discussion points around leadership, ethics and colonisation.

368 pages / Ages 10+ / Reviewed by Mary Rees, teacher
Suggested Reading Age 9+
Lucas
A fast paced, engaging science fiction adventure. When Beth and a small group of other children suddenly find themselves in charge of Orion, a giant space ship, after a mysterious incident, floating in space is the least of their worries.

There are strange alien ships to worry about, not to mention The Scrapers, space pirates who travel the galaxy taking whatever they want, whenever they want it. If Beth and her rag tag crew are going to survive, they are going to have to outwit adversaries that they only know about from their school lessons.

Orion Lost is a brilliant space romp with amazing characters. It has loads of action, great storytelling and plenty of twists and turns to keep you going. If you're a fan of Star Wars, Firefly or Star Trek, you're going to absolutely love this adventure!

368 pages / Reviewed by Lucas Maxwell, school librarian
Suggested Reading Age 9+
Adam
Set entirely on a deep space spaceship destined for the colonization of a distant world, something has gone wrong. All the adults have been put into stasis and cannot be woken up. The only available crew members are 13-year-old Beth Mckay and her four classmates. Newly deputized as the acting Captain, Beth must contend not only with space pirates, the alien Videshi, the spacecraft's AI, 'Ship', but her own crew!

Where do I start? This was an amazing read! For a first novel it can't be overstated how well crafted this book is. It manages to hit just the right mark to attract young and older readers. With tight, concise chapters - most ending on a cliffhanger of some sort - it begs to be read.

Most interesting is the focus Chisholm has put on the importance of command structure. While there are plenty of colourful story-points, the focus on the skill of being a leader, making the right choices, owning your mistakes and trusting in your team is refreshing and sets it apart from similar themed space adventures.

The sci-fi technology and logic fits together well, with few (if any) plot holes - possibly down to Chisholm's background in puzzle books? While the twists in the story may be predictable upon reflection, the story carries you along so effortlessly that you will have little time to dwell on where this space epic will end. I'm looking forward to what he writes next!

368 pages / Ages 10+ / Reviewed by Adam Rodgers, school librarian
Suggested Reading Age 9+
Other titles