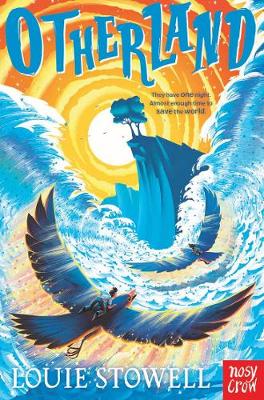 By Author / Illustrator
Louie Stowell, George Ermos
Genre
Fantasy
Age range(s)
9+
Publisher
Nosy Crow Ltd
ISBN
9781788000468
Format
Paperback / softback
Published
06-05-2021
Synopsis
Otherland is a dangerous magical underworld - a place where appearances can be deceiving and anything can happen. A world of gods, vampires, and fairies. It's also... horrible.  When life-long friends Myra and Rohan discover that Rohan's baby sister Shilpa has been stolen and taken to Otherland, the only way to rescue her is by taking part in a deadly game - three impossible challenges set by the Fairy Queen of Otherland. Win the game, and Rohan and Myra can go home with Shilpa - but lose, and they'll be trapped in Otherland forever...A darkly funny, action-packed fantasy adventure, perfect for fans of The Strangeworlds Travel Agency, Malamander, and The Land of Roar, from the author of the highly-acclaimed Dragon in the Library series.
Reviews
Nathan
Otherland by Louie Stowell is an excellent adventure, fantasy story that opens up a whole new realm of magical fairies, gods and creatures where things aren't always as they appear. This story has something for every reader and is very hard to put down. Myra and Rohan are lifelong friends with a shared unique bond which they celebrate every year on their birthday, otherwise known as 'Death Day'. However, their birthday always ends in disaster from burning sheds to fireworks. This year is no exception, with Rohan's baby sister disappearing in a puff of smoke, having been taken to 'Otherland'. Myra and Rohan are left with no option but to somehow find their way to this new world called Otherland to save baby Shilpa. They are aided in their quest by Mab, The Fairy Godmother, but is she as helpful and honest as she portrays?
Once in Otherland, which is beautiful, interesting yet horrible all rolled into one, it quickly transpires that the only way to save Shilpa is to complete three deadly challenges called a Knight Game set by the powerful queen fairy, Gloriana. The rules are simple: complete the impossible challenges and Rohan, Myra and Shilpa safety return; lose and all three remain in Otherland and are answerable to Queen Gloriana for eternity.
Otherland is action packed from the first page to the last with funny moments throughout. I am looking forward to exploring other books written by Louie Stowell with my class. This text would excellently support the teaching and learning of fantasy or adventure story writing in particular. The unique plot, characters, twists and dilemmas of the story would provide the children with inspiration and motivation to write imaginatively. The text also excellently demonstrates the features of good and effective story writing. I would highly recommend this book for children in years 4,5 and 6.
272 pages / Reviewed by Nathan Cox, teacher
Suggested Reading Age 9+
Jennifer
A fantastical fantasy quest through a portal into another world. Two ( reluctant) young friends, Rohan and Myra, must challenge the darkly mischievous Fairy Queen for the return of Rohan's baby sister, who the Queen has stolen to be her latest changeling.
Otherland is inventive, creative and mesmerising. The finely detailed world building is captivating and intriguing and feels more surreal and edgy than many middle grade fantasies, although the book also bursts with delightful humour. The dynamics of different relationships create quick wit, dry humour and some wonderfully heart- warming scenes. The fashion-conscious fairy godmother Mab is not all she seems and Rohan and Myra must navigate ever twisting and changing events in a race to defeat and outwit the sharp tongued Queen.
Author Louis Stowell keeps the reader in a state of tension throughout the drama, with just the right amount of peril and danger, offset perfectly against the fun and relatability of the personalities of the two young main characters. An absolutely great, fresh feel and style that updates and up levels the classic fairytale quest genre. Brilliantly done.
272 pages / Ages 8+ / Reviewed by Jennifer Caddick, teacher
Suggested Reading Age 7+
Kelly
Fans of Abi Elphinstone's Rumblestar series will enjoy Otherland by Louie Stowell: a fun and energetic portal story that delves into a dark and dangerous magical world inhabited by fairies, gods and vampires.
Most children celebrate their birthdays with clowns, cake, friends and party games; this is not the norm for friends Myra and Rohan. They celebrate 'deathday' - the day they were born, died, and came back to life. Charismatic Myra tends to ignite such celebrations in explosive ways, adding light, positivity and humour in contrast to Rohan's sensible, risk-averse and predictable personality. These two characters work well together to create a lighthearted parody amidst the serious plight they find themselves catapulted in.
Finding themselves in Otherland, they end up in a live version of the deadly Knight's Game - lending a Jumanji and Dungeons and Dragons theme - which they must win to save Rohan's baby sister, Shilpa, from becoming a green fairy trapped in Otherland forever.
This journey is a test of strength, friendship, determination and patience where they will need to be true to themselves and work together. I enjoyed the transformation in characters as they realised that they would need to work in a more aligned trajectory to be successful. A humorous, witty story that transports readers into the unknown, where anything is possible, filled with magic, hope and challenge. The perfect story for 9+ readers or as an adult-lead class reader.
272 pages / Ages 9+ / Reviewed by Kelly Buxton, teacher
Suggested Reading Age 9+
Other titles