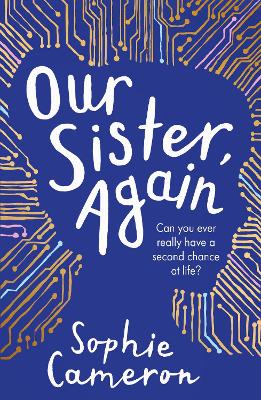 By Author / Illustrator
Sophie Cameron
Genre
Science Fiction
Age range(s)
11+
Publisher
Little Tiger Press Group
ISBN
9781788953917
Format
Paperback / softback
Published
12-05-2022
Synopsis
On a small island off the Scottish coast, Isla and her family are grieving the loss of her older sister Flora, who died three years ago. Then they're offered the chance to be part of a top-secret trial, which revives loved ones as fully lifelike AI robots using their digital footprint.

Isla has her doubts about Second Chances, but they evaporate the moment the 'new' Flora arrives. This girl is not some uncanny close likeness; she is Flora - a perfect replica. But not everyone on their island feels the same. And as the threats to Flora mount, she grows distant and more secretive. Will Isla be able to protect the new Flora and bring the community back together?

An intriguing, thoughtful and poignant exploration of what makes us 'us', for fans of SHOW US WHO YOU ARE, A POCKETFUL OF STARS and TROOFRIEND.

"A beautiful exploration of grief, hope, and what it means to be human ... This is an outstanding middle-grade debut from one of my favourite authors." - Simon James Green, author of Life of Riley.  "I loved this book, it was perfect soft sci-fi with very real themes of love and loss. Sophie Cameron has written a wonderful exploration of what it means to be human." - L. D. Lapinski, author of The Strangeworlds Travel Agency. 
Find out more from author Sophie Cameron
Reviews
Sue
Isla and her family live on the small island of Eilean Dearg in the Outer Hebrides. Grieving the loss of her older sister, Flora, the family is struggling to cope when Isla notices an advertisement for a support group. Little does she know when she fills this in that the family will be offered the chance to be part of a top-secret trial, recreating Flora as an AI robot. Initially sceptical, Isla's doubts disappear when 'Flora' arrives on the island- it's as if her sister has truly returned home. But not everyone feels the same way and tension mounts as anonymous threats are made.
A compelling and thought-provoking story, Our Sister, Again is a brilliant read. Isla's family are devastated by Flora's loss, but whilst her mother grasps at the chance to have her daughter back in this way, her father has many reservations about the project, causing the family to split. The story raises plenty of questions, challenging the reader to think about life, loss and what really makes us who we are, developed by the different points of view raised by various characters through the story as they react to Flora's return.
Family and friendship are at the heart of the story and each character is well developed and believable. The relationship between the sisters is beautifully handled, particularly that between Isla and her younger sister, Una, whose bond has grown in the face of the family's grief. There are many poignant moments as the story develops, leading to an interesting and unexpected conclusion. An excellent book - highly recommended!
304 pages / Reviewed by Sue Wilsher, teacher
Suggested Reading Age 11+
Clare
Desperate to heal the family after her sister, Flora's, death, Isla signs her mother up for grief counselling sessions. The sessions turn out to be a front for a pioneering AI company called Second Chance. Using the digital footprint of the recently deceased and information obtained from exhaustive interviews with family and friends, a 'returnee' is created to replace the deceased. While Isla's mother is ecstatic about the prospect and the subsequent returnee Flora, her father and the rest of the family soon have their doubts. Flora's friends and family have aged and moved on, and many in their remote island community - sworn to secrecy with binding contracts and lucrative payments - feel that something is amiss with the new Flora.
This is a compelling exploration of grief, family and the desperate ends to which people will go assuage their pain. The family's differing reactions to Flora reflect the different ways of dealing with and moving on from grief.  A multitude of questions arise from the scenarios posed in the book - particularly about the soul or essence of people and what it is that makes us human.
This is a thought-provoking and gripping read that throws everyday people and a small community into the unknown. Sensitively written and with a cast of sympathetic characters, this is a must-read for all inquiring teenage minds.
304 pages / Reviewed by Clare Wilkins, school librarian
Suggested Reading Age 14+
Other titles