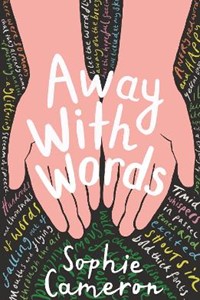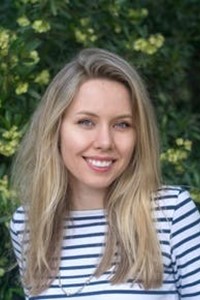 About Author
Sophie Cameron's new novel, Away With Words, is a lyrical story about language, communication and poetry. Sophie is a YA and MG author from the Scottish Highlands. She studied French and Comparative Literature at the University of Edinburgh and has a Postgraduate Certificate in Creative Writing from Newcastle University. Her debut novel Out of the Blue was nominated for the Carnegie Medal 2019. She now lives in Spain with her family.
Interview
Away With Words  (Little Tiger Press)
May 2023
Sophie Cameron, author of Our Sister, Again, explores communication and shared language in her new book, Away With Words, which follows what happens to a girl who moves from Spain to Scotland and has to grapple with a new language as well as her new home. In the world created by Cameron, spoken words actually manifest as written words, which adds another distinctive layer to Away With Words. 
Read a Chapter from Away With Words:  'The head teacher had slugs on his face. Lime–green, right in the middle of his chin.  Not the animal – the word.  The word stuck to his chin in lime-green letters.'
5* Reviews: "The book celebrates the power of words....it is a story about finding your voice. The fantastical image of words becoming visible and communicating the emotion of the speaker creates superb imagery."
Sophie Cameron tells us what inspired her new book, why she wanted to write about communication and language, and about her settings in this Q&A and video:
Q&A with Sophie Cameron
1.   Can you tell us a bit about yourself, and how you started writing for young people? Any favourite moments as an author to date?
I'm from the Scottish Highlands, lived in Edinburgh for a long time, and have now been in Spain for about seven years. I started writing for young people after doing a postgraduate course in Creative Writing at university - a sample chapter from a YA novel that I wrote got such good feedback from the tutors that it encouraged me to keep going!
I have a day job as a copywriter and I have three-year-old twins, so most of my writing is done early in the morning, late at night or on weekends. My favourite moments as an author have mostly been getting to meet young readers at school visits or other events. It doesn't happen very often since I live abroad, but it's always a lot of fun.

2.   What is your new book, Away With Words, about?
Away With Words is set in a version of our world where we can see and touch the words that people speak, as well as hear them. The story is about 11-year-old Gala, who has just moved from Spain to Scotland with her dad to live with his boyfriend, Ryan, and her difficulties with learning English and adapting to her new home. She makes a friend at her new school named Natalie, who has selective mutism and collects other people's old speech. The girls begin writing messages to their classmates with the discarded words, but something goes wrong and it gets them into trouble.

3.   What was the germ of the idea the novel started with? Does the finished book look very different from the initial idea?
I love learning languages - I studied French at university, speak Spanish and Catalan at work and in my daily life, and have learnt (and in most cases, forgotten!) about a dozen others to different levels - but I often have trouble with pronunciation. It sometimes feels as if the words are stuck at the back of my mouth and I can't quite get them out, which is where the idea of words having a physical form came from.
Compared to my other books, the finished book is actually very close to my original idea - the story went through quite a few changes in the editing process, of course, but the main plot and characters are the same.

4.   How did your idea for 'seeing' words in different fonts and colours emerge? It's a lovely way to describe how words are used - for speaking, for creating poetry, or for bullying. What were your 'rules' for seeing the spoken word?
I thought about how people's normal speaking voices have different tones and weights and how those can change depending on mood and circumstance, and tried to replicate that using colour and shapes - Gala's words often have bolder colours when she's feeling stronger emotions, or come out blurred around the edges when she's unsure of something. I was also inspired by the French poem Voyelles (or Vowels) by Arthur Rimbaud, which is about synaesthesia and seeing colours in different letters.

5.   Why did you want to take such a 'deep dive' into exploring how we communicate and issues around language? How did you research this?
I'm pretty obsessed with language learning, so I've wanted to write a novel about it for a long time! I was interested in exploring the joys and frustrations of learning a new language, and also the overlap with communications difficulties that people can have in their native languages.
The main part of my research was around selective mutism, and I also read about the specific experience of ESL learners moving to English-language environments and spoke to people who had done so as children, like Gala. The rest came from my own experiences with the ups and downs of learning languages over the years.

6.   How do your two main characters, Gala and Natalie, struggle with language and why did you choose these examples of communication?
Gala has learnt some English at school in Spain, but when she arrives in Scotland she finds herself totally lost, partly due to the unfamiliar accents and the speed at which people talk. Natalie has selective mutism so she's unable to speak in certain situations, including at school.
I wanted to show how the overlap in their experiences help them feel empathy for the other's situation, and also illustrate that communication and friendship are possible even when there's a language barrier - the girls initially build a friendship through other means, like using photos or writing messages on their phones.

7.   You show how children who are quiet or silent, like Natalie, can slip below the radar and not be noticed. Do you feel that this can be detrimental to their wellbeing? Or are you exploring other ways for children to find their voice, for example through Natalie's love of poetry?
I think in Natalie's case it is quite detrimental to her wellbeing. This varies from culture to culture, but I think people who are very quiet or silent are often misunderstood as being disinterested, rude or sulking, when often it's not the case at all. Natalie feels like she's underestimated and overlooked because she can't talk at school and it's frustrating for her, so her use of words to create poetry is a way through that. Everyone is different though, so I'm sure there are plenty of kids with selective mutism who don't feel that way at all.

8.   How did you decide on your location for the setting, in Scotland? Is this a place you know well? 
Away With Words is set in a small town in the Highlands called Fortrose, where I lived from the ages of 3 to 12 and went to secondary school. All of my books so far have been set in Scotland, but this was my first time writing about the place I grew up.
When I was younger I couldn't wait to get away and live somewhere more exciting, but when I visit now I really appreciate the space, the quiet, how green everything is. Gala goes from hating her new home to finding things she really likes about it, so I enjoyed reflecting on what I miss about the area and trying to see it through the eyes of someone new.

9.   What would you like your readers to take from Away With Words?
I hope it makes readers think about how language difficulties can affect some people, or that they gain some comfort from it if they've been through those difficulties themselves. If it inspires some interest in Catalan language and culture or in language learning that would be great, too!

10.  What are you writing currently? And what has been your favourite recent read?
Right now I'm working on two projects, a fantasy YA novel and a family saga that will hopefully be my first book for adults.
I recently read the middle grade novel Jamie by L. D. Lapinski, which I really enjoyed, and my favourite book that I've read so far this year is a book for adults, Sea of Tranquility by Emily St. John Mandel.
Author's Titles