Outside: A Guide to Discovering Nature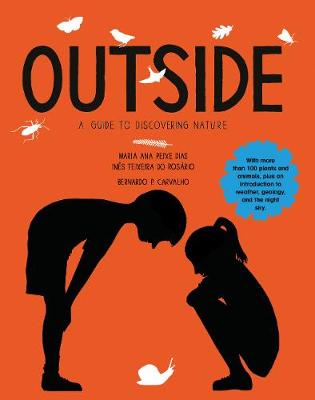 By Author / Illustrator
Maria Ana Peixe Dias, Ines Teixeira do Rosario, Bernardo P. Carvalho
Genre
Adventure
Age range(s)
7+
Publisher
Frances Lincoln Publishers Ltd
ISBN
9781847807694
Format
Hardback
Published
03-03-2016
Synopsis
Who does this footprint belong to?
What is this worm up to?
What is the name of this tree?
Even if we live in the city, nature is still all around us: clouds and stars, trees and flowers, rocks and beaches, birds, reptiles or mammals.
What are we waiting for?
Let's jump off the couch and begin exploring!
Created in collaboration with a team of Portuguese experts, this book, which won the coveted Bologna Regazzi award, aims to arouse your curiosity about fauna, flora and other aspects of the natural world. It includes suggestions for activities and many illustrations to help the whole family get started, leave the house, and go out to discover - or simply admire - the amazing world that exists outdoors.
Reviews
Emily
'For thousands and thousands of years, it was just us and nature' but over the last one hundred years, our relationship with the natural world has changed. Outside: a Guide to Discovering Nature was written with this in mind and created to inspire curiosity in the natural world. So let's get outside and start exploring! This delightful book begins with a discussion about us and nature, how this has changed over time and the increasing need for us to reconnect with the outdoors. 'Outside' also looks at the practical issues readers will want to think about as they head outdoors to explore nature - where to go and what to take with them as well as the signs and clues that animals leave behind them. A beautiful compendium of fascinating facts about insects, amphibians, reptiles, mammals & birds; Flowers, trees, flora and fauna also feature as well as information about rocks, oceans & beaches; the stars, moon & sun; the clouds, wind & rain. 'Outside' is packed full of knowledge about the natural world - do worms have a heart? Why don't slugs have shells? And, If chickens are birds, why don't they fly? 'Outside' also shares helpful advice to help you to engage with the natural world - have you ever wondered how to put up a bird house, how to make a crown of flowers or make an envelope for seeds? Each section of the book is creatively separated by a monochromatic illustration by artist Bernardo P. Carvalho. His simple yet stylish illustrations throughout the book enhance the message of the text to engage more with the natural world.& The glossary at the end of the book provides the reader with an opportunity to explore the vocabulary of the book in greater detail. The naturalists timeline is a interesting look at the important dates for the study and preservation of the world we live in. An inspiring work of art as much as a guide to the outdoors with a stylish colour pallet of black, white, blue & orange. This is a truly stunning book to own. Whilst originally written in Portuguese and winner of several prestigious Portuguese awards, the translation into English has enabled this book to reach a world wide audience. Perfect for families, classrooms and forest school libraries. A must read for those who love the outdoors and those inspired by it. 368 pages / Ages 7-11 years / Reviewed by Emily Beale, school librarian.
Suggested Reading Age 7+
Other titles