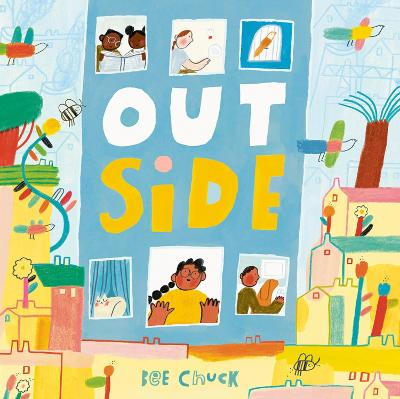 By Author / Illustrator
Bee Chuck
Genre
Environment
Age range(s)
3+
Publisher
Little Tiger Press Group
ISBN
9781838913946
Format
Hardback
Published
02-02-2023
Synopsis
Outside is a place that nobody thinks much about. It's somewhere to go for a walk in the park or a trip to the duck pond or to get from one place to another. Inside is much more important. Until suddenly, no one is allowed to go outside and everything changes . . .
This brilliantly illustrated picture book shows us just how important the outside work can be in our day-to-day lives. A euphoric story to instil a love of the outdoors in young readers.
Reviews
Lucy
Outside is a lovely book with enticing illustrations. This is a story all about a child who doesn't appreciate the beauty of the outside world until they can no longer enjoy it (because of the global pandemic). As they begin to have to stay inside all the time, the activities they normally enjoy become boring and the outside becomes more attractive an alluring. Slowly, they are allowed to spend a little bit of time outside which then grows into their new normal and they begin to find joy in many parts of the outside that they previously haven't even noticed!
This picture book is filled with attractive, child-like illustrations which really enhance the story telling from a child's point of view. I think children will enjoy reading this story and will be able to relate it to their own experiences of the pandemic.
Picture book / Reviewed by Lucy, teacher
Suggested Reading Age 3+
Lauren
Outside is a beautiful picture book about a time that wasn't so beautiful. 'Outside is a place nobody thinks much about' is a poignant and key line in the story. I loved how I started to read the story and wasn't automatically hit by the thoughts of COVID-19 and the effect that this had on humans, animals and the planet. The book picks up on all three of these and celebrates our planet and a time where we took what was outside completely for granted.
The mix of fact and fiction within this story is really clever, and how it highlights all of us in one way or another. The illustrations are incredible and go beyond the words on the page. They are full of colour and life and for me, were the highlight of this book. Children can really explore the images and look at all the wonderful things going on. Lots of colour for what was a dark time for many.
I think this book could be a beautiful keepsake for a child exploring the years of COVID and also a reminder of how amazing and lucky we are now. Definitely one for the bookshelf!
Picture book / Reviewed by Lauren, teacher
Suggested Reading Age 3+
Other titles