Overemotional: the wholesome, queer YA adventure of the year!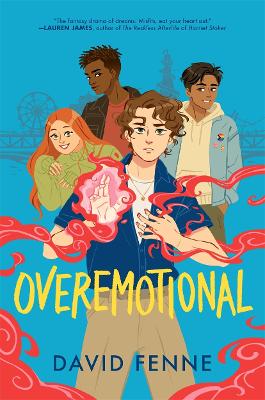 By Author / Illustrator
David Fenne
Genre
LBGTQ+
Age range(s)
14+
Publisher
Bonnier Books Ltd
ISBN
9781785304729
Format
Paperback / softback
Published
06-07-2023
Synopsis
Sometimes, emotions can be a little too powerful . . .  17-year-old Steven has a big problem . . . Whenever he feels intense emotions, weird things happen.  Like when he kissed a boy for the first time, and the boy's head literally exploded.

Fleeing to the miserable town of Grunsby-on-Sea, Steven is determined to not hurt anyone else - but he doesn't count on his best friend Freya, her boyfriend Marcus and American friend Troy following him. And when agents from the mysterious DEMA organisation show up talking about "neutralisation", Steven realises that Grunsby-on-Sea might not be the safe haven he'd hoped for . . .

The first in a wholesome queer YA fantasy trilogy packed with magic, loveable characters and big plot twists from debut author DAVID FENNE. Perfect for fans of TJ Klune, Rainbow Rowell and Adam Silvera.  "An epically exciting, utterly unique debut. Not to be missed." William Hussey, author of Broken Hearts & Zombie Parts.  "The fantasy drama of dreams." Lauren James, author of The Quiet at the End of the World.
Reviews
Stephen
Steven Percival realised there really was something strange going on with him when he kissed a boy whose head proceeded to explode. Whenever he experiences emotion, the opposite emotion is transferred to whatever or whoever is around him with spectacular effect. Heading to the dead end town of Grunsby-on-Sea, Steven hopes to lay low and avoid harming anyone else while he works out what's going on with this 'emomancy' as he calls it.
But Grunsby isn't as dead as it first seems. And when his best friend Freya turns up (unimpressed at his sudden departure) and the two are chased round the town by a mysterious women trying to accost them, they realise Steven could be in grave danger; fears made more real when Freya's boyfriend reports a stranger from DEMA has been snooping around enquiring about Steven. As Steven and Freya investigate who or what is looking for him, a chance encounter with a stranger with similar powers to his who offers to help could be the answer to Steven's predicament. Despite Freya's warnings, emotions may cost Steven his life and that of his friends.
Overemotional is a refreshingly entertaining and enjoyable read by debut author David Fenne and I loved it. From the revelation at the start through unexpected twists and turns to the climatic ending - I was hooked all the way through! The story started at pace and didn't stop and took me on a roller-coaster ride of emotions as revelations and discoverers were made and the danger increased. The various chase scenes through the town and the escape from the hotel left me breathless! Short chapters told from different characters point of view and the occasional change in format also helped keep up the pace of his book.
I liked the contrast of the grey mundane setting of seaside Grunsby and the colourful emotional power (or magic) of Steven - check the inside cover for the emomancy cheat sheet! The reverse emotional power Steven has is something I've not come across before, making this novel all the more exciting and original. The eclectic range of characters are brilliant and very relatable to. They all brought something different to the story with Steven and his friends all being High School students. Freya for me was the star! Imbued with a sassy, sharp and vivacious personality and a drive to get to the bottom of things and full of heart, she's the kind of friend you want in your team, especially when the chips are down. Her commitment to Steven is 100% despite the moans of her boyfriend. Yet people will relate to Steven, as someone deep thinking and desperately trying to work out who they are on different levels. At times I wanted t give him a hug and say 'you'll be alright'. American friend Troy is a hoot, too, and causes many a humorous moment struggling to get to grips with British humour and culture!
There is diversity across the characters in the novel, making it a very representative read. Watch out for the Leeches, too - creepy, dangerous and horrific. With waves of emotion, action, mystery, mayhem, magic and friendship, as well as a message of learning to accept who you are, this is an exciting read. A brilliant page turner and the first in a trilogy. Highly recommended and I can't wait for the next book!
352 pages / Reviewed by Stephen Leitch, school librarian
Suggested Reading Age 14+
Other titles