Petunia Perry and the Curse of the Ugly Pigeon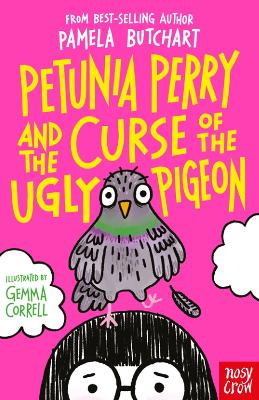 By Author / Illustrator
Pamela Butchart, Gemma Correll
Genre
Friendship
Age range(s)
7+
Publisher
Nosy Crow Ltd
ISBN
9780857634887
Format
Paperback / softback
Published
02-07-2015
Synopsis
A hilarious novel about how to fit in when you don't want to conform, with brilliant illustrations throughout by world-renowned Gemma Correll. Perfect for fans of Louise Rennison and Holly Smale. Now with a brand-new look!
Petunia Perry has decided to write her memoirs. She wants the world to know what it's like to start secondary school with a best friend who stages one-person flash mobs in the canteen, a mother who over-shares at parents' evenings and an unwelcome suitor who draws pictures of her as a unicorn. But it's when she decides to start a band with a spoon-player and a lead-singer who's a cat that things take a turn for the truly crazy...
A laugh-out-loud take from the bestselling author, Pamela Butchart, on the perils of standing out in secondary school. Petunia Perry dares to be different and it's not always easy. But it is always life-affirming and hilarious, and definitely the right thing to be...
Pamela is also the author of the Izzy series for younger readers:Baby Aliens Got My TeacherThe Spy Who Loved School Dinners, My Headteacher is a Vampire Rat, The Demon Dinner Ladies, To Wee or Not to Wee, There's a Werewolf in My Tent, The Phantom Lollipop Man, There's a Yeti in the Playground, Icarus Was Ridiculous, The Broken Leg of Doom, A Monster Ate My Packed Lunch!
Reviews
Jenny
I am a huge fan of Pamela Butchart's Baby Alien series of books and Petunia Perry and the Curse of the Ugly Pigeon is written with the same high energy, humour and zany chaos that this author does so well and so joyously. The serious observations behind the fun here, however, take the reader into high school territory; its unwritten rules, social etiquette and its whole new, confusing hierarchies. The story so aptly and realistically acknowledges those Year 7 and 8 senior school traumas and embarrassments that a lot of readers will relate to.
The flamboyantly named Petunia Perry is the voice of the story – writing her memoirs of her "tragic" life so far from the inside of her wardrobe. The transition to Y7 is proving baffling and tough to navigate but Peri and Best Friend Cammy coped as long as they had the safety net of their sworn friendship. When Peri and Cammy begin to fall out over the creation of their new band, The Spoons - including flash mob disagreements and the introduction of a new (very cool) band member - Peri begins to feel the heat and walking her own path becomes even more awkward and prone to disaster!
I loved Peri.  She is such an endearing, dry witted, sarcastic and long-suffering friend (and daughter) who has the ability to make the reader cry with laughter with her observations about the calamity and dramas going on around her and involving her. Her pre-teen outlook on life is hilariously, truly funny. Pamela Butchart is just such an expert at capturing the internal voice of her young characters and their external reactions to events around them.
The best part of the story, for me, was the absolutely fantastic depiction of Peri's relationship with her obviously much loved mother; her very enthusiastic, well-meaning and well, embarrassing mother! The snippets of Peri's thoughts on her mum were just genius and made the story for me. "I am beginning to think that my mother might drink shampoo. It would explain so much." Illustrations by Gemma Correll add to the delight and life given to the characters and I was left really wanting another installment of Petunia Perry and her high school adventures.
304 pages / Reviewed by Jennifer Caddick, teacher
Suggested Reading Age 7+
Jane
Parents are totally embarrassing. Teachers are figures of fun, names have been changed to protect the innocent, i.e. Peri (Petunia) and her best friend Cammy (Camembert) from ridicule (with only limited success). Spoons, cats, boys you like and boys you loathe, weird outfits and, of course, an ugly pigeon (deceased): all these give enormous entertainment value to this tale from a comedy-writer extraordinaire.
A glance at the chapter headings (e.g. "It's my party and I'll die if I want to") will give anyone unfamiliar with Pamela Butchart's style a feel for what's in store, while flicking through the pages at the assorted fonts, graphics and comic illustrations will reveal the genius of artist Gemma Cornell and the Nosy Crow production team.
One to recommend (if that were even needed; many are already fans) to KS1 & KS2 children, any who like to imagine school and home life as a source of hilarity rather than hard work.
304 pages / Reviewed by Jane Rew, school librarian
Suggested Reading Age 7+
Sam
Petunia Perry and the Curse of the Ugly Pigeon by Pamela Butchart is a laugh out loud tale of friendship, school girl crushes, teachers, parents and a rather special cat. We first meet Peri, aka Petunia, as she sits in her wardrobe writing her memoirs. She's 100% sure her best friend, Cammy, hates her. Peri has a big personality and she's not afraid to be herself. Peri and her friends decide to form a band they are all very excited, particularly when the lead singer happens to be a cat!
This is an amusing story made even more so by the witty chapter titles; Parent's Evening: When Two Worlds Collide - Hire fake parents and take them (if you want to show your face at school ever again), and reader side-notes, I am certain that anyone who has enjoyed Wimpy Kid, or the Dork diaries would enjoy reading about Petunia.
A collection of fitting cartoon style black and white drawings, by Gemma Correll, accompany the story throughout and will inevitably help sustain the interest and enjoyment of any less confident reader and while the title identifies the protagonist as female this book would certainly appeal to both boys and girls alike. I have no doubt that young readers between the ages of 8 and 13 would enjoy reading all about Peri and her escapades.
304 pages / Reviewed by Sam
Suggested Reading Age 7+
Other titles