Petunia Perry and the Curse of the Ugly Pigeon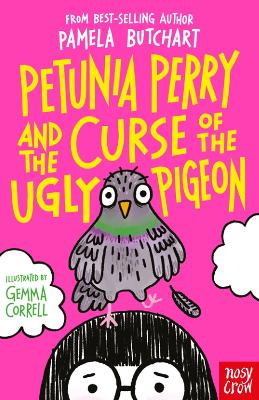 By Author / Illustrator
Pamela Butchart, Gemma Correll
Genre
Friendship
Age range(s)
7+
Publisher
Nosy Crow Ltd
ISBN
9780857634887
Format
Paperback / softback
Published
02-07-2015
Synopsis
A hilarious novel about how to fit in when you don't want to conform, with brilliant illustrations throughout by world-renowned Gemma Correll. Perfect for fans of Louise Rennison and Holly Smale. Now with a brand-new look!Petunia Perry has decided to write her memoirs. She wants the world to know what it's like to start secondary school with a best friend who stages one-person flash mobs in the canteen, a mother who over-shares at parents' evenings and an unwelcome suitor who draws pictures of her as a unicorn. But it's when she decides to start a band with a spoon-player and a lead-singer who's a cat that things take a turn for the truly crazy...A laugh-out-loud take from the bestselling author, Pamela Butchart, on the perils of standing out in secondary school. Petunia Perry dares to be different but it's not always easy. But it is always life-affirming and hilarious, and definitely the right thing to be...Pamela is also the author of the Izzy series for younger readers:Baby Aliens Got My TeacherThe Spy Who Loved School DinnersMy Headteacher is a Vampire RatThe Demon Dinner LadiesTo Wee or Not to WeeThere's a Werewolf in My TentThe Phantom Lollipop ManThere's a Yeti in the PlaygroundIcarus Was RidiculousThe Broken Leg of DoomA Monster Ate My Packed Lunch!
Reviews
Sam
Petunia Perry and the Curse of the Ugly Pigeon by Pamela Butchart is a laugh out loud tale of friendship, school girl crushes, teachers, parents and a rather special cat. We first meet Peri, aka Petunia, as she sits in her wardrobe writing her memoirs. She's 100% sure her best friend, Cammy, hates her. Peri has a big personality and she's not afraid to be herself. Peri and her friends decide to form a band they are all very excited, particularly when the lead singer happens to be a cat!
This is an amusing story made even more so by the witty chapter titles; Parent's Evening: When Two Worlds Collide - Hire fake parents and take them (if you want to show your face at school ever again), and reader side-notes, I am certain that anyone who has enjoyed Wimpy Kid, or the Dork diaries would enjoy reading about Petunia.
A collection of fitting cartoon style black and white drawings, by Gemma Correll, accompany the story throughout and will inevitably help sustain the interest and enjoyment of any less confident reader and while the title identifies the protagonist as female this book would certainly appeal to both boys and girls alike. I have no doubt that young readers between the ages of 8 and 13 would enjoy reading all about Peri and her escapades.
304 pages / Reviewed by Sam
Suggested Reading Age 7+
Other titles