Ping and the Missing Ring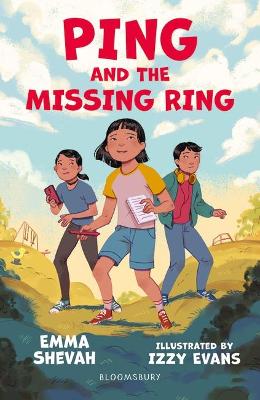 By Author / Illustrator
Emma Shevah, Izzy Evans
Genre
Mystery & Detective
Age range(s)
9+
Publisher
Bloomsbury Publishing PLC
ISBN
9781472994097
Format
Paperback / softback
Published
19-08-2021
Synopsis
An exciting contemporary mystery set in a Thai family in London, by Emma Shevah, author of Dream On, Amber. When Ping visits her Aunty Lek and her cousins Tong and Taptim it usually isn't long before they're on an adventure. Aunty Lek's precious ring is missing, and she's sure it's been stolen. Will Ping, Tong and Taptim be able to solve the case of the missing ring? This contemporary story features black-and-white illustrations by Izzy Evans.The Bloomsbury Readers series is packed with book-banded stories to get children reading independently in Key Stage 2 by award-winning authors like double Carnegie Medal winner Geraldine McCaughrean and Waterstones Prize winner Patrice Lawrence. With black-and-white illustrations and online guided reading notes written by the Centre for Literacy in Primary Education (CLPE), this series is ideal for home and school. For more information visit www.bloomsburyguidedreading.com.Book Band: Dark Red (Ideal for ages 10+)
Reviews
Sam
This is a great early mystery story, ideal for a young reader who still lacks the confidence to 'go-it-alone' with their book selection. Ping and the Missing Ring by Emma Shevah is a colour banded (Dark Red) chapter book by Bloomsbury Education. Aimed at Year 6 expected level readers this is the story of Ping a young Thai girl who finds maintaining the calm politeness of her parent's culture difficult.
Ping has always been rather excitable and it is this that makes her Mum ask Ping to 'promise' not to get involved in any adventures while she is staying with her cousins. Ping is really looking forward to seeing her cousins again, it has been a long time since she last saw them, however, they seem to have changed; Taptim is fixated by her new phone and Tong appears to have something wrong with his voice! Fortunately, once their colourful friend Clementine arrives things begin to look up. Clementine is so bubbly that, along with her dog Sparks, it's inevitable that the 4 children are soon to be right in the midst of an adventure.
Ping's Aunt Lek runs a business selling furniture and artwork from Thailand, so alongside the cultural references this fab story also gives its reader an early insight to the Thai lifestyle. When Aunt Lek's expensive engagement ring goes missing, she immediately assumes that Clementine's Mum, Isabelle, must have had something to do with its disappearance. Ping is not so sure and although she's promised her Mum not to get into any adventures she feels she needs to help find the ring, to not only make sure that Isabelle doesn't get into trouble, but that Clementine gets to come and see the children again.
This is a super book for any independent reader, whether at home or at school. It's short chapters, clear, understandable text and delightful illustrations by Izzy Evans make Ping and the Missing Ring a great early mystery read. The addition of the reading zone, questions and quizzes at the end of the story are a great way of supporting parents with questioning and discussion.
96 pages / Reviewed by Sam Phillips
Suggested Reading Age 9+
Other titles