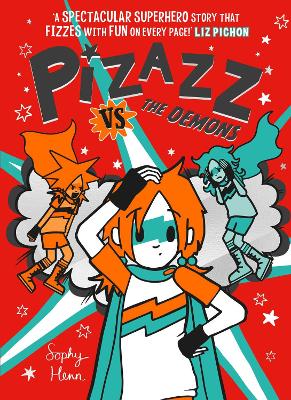 By Author / Illustrator
Sophy Henn
Genre
Adventure
Age range(s)
7+
Publisher
Simon & Schuster Ltd
ISBN
9781398505803
Format
Paperback / softback
Published
03-03-2022
Synopsis
The fourth book in a SUPER (like, actually, with powers and stuff) new series for readers aged 7+ from the amazingly talented illustrator and author Sophy Henn! Brimming with Sophy's hilarious illustrations, this is the perfect read for fans of Dork Diaries, Tom Gates, Amelia Fang, Wimpy Kid and Dog Man.

HELLO! My name is Pizazz. As a 91/2-year-old superhero, I have a LOT going on. And thanks to super baddie CopyCat and her SuperPower Duplicator (TM), I now have FIVE Demon Pizazzes to deal with. Five.  'How are you going to defeat yourself, Pizazz?' I hear you ask. Well, that's a good question!

Hilariously narrated by reluctant superhero Pizazz, and brimming with Sophy Henn's distinctive illustrations and comic-book strips, this is the fourth book in the laugh-out-loud PIZAZZ series! Look out for more Pizazz adventures: Pizazz, Pizazz Vs The New Kid and Pizazz Vs Perfecto!
Reviews
Sue
Thanks to super baddie Copycat, Pizazz now has five Demon Pizazzes to deal with. Each Demon Pizazz represents a different emotion and she will need the help of all of her friends to overcome them…
In this, her fourth, adventure, Pizazz is told that evil baddie Copycat is being unbelievably annoying and is repeating everything anyone says. Copycat has said that she might stop if Pizazz asks her nicely so our grumpy super rushes into action. However, she finds herself faced with Copycat's invention, the Super Power Duplicator, with which Copycat intends to steal Pizazz's superpower. Things do not go according to plan and soon duplicate Demon Pizazzes are appearing and causing problems.
Each of the Demon Pizzazes embodies a different emotion and, with the help of her friends, she is able to find ways of defeating them. The advice her friends offer is, of course, brimming with words of wisdom for all of us when those emotions come to the fore.
Pizazz has been a huge hit with my classes ever since she made her debut! Offering a brilliant balance of story, illustration and comic strip, they are instantly engaging and readable. Brimming with humour, they are also full of positive affirmations about being yourself, friendship and working together. It is so easy to identify with this well intentioned but accident-prone reluctant superhero!
These stories go from strength to strength and I hope there are many more adventures for this eye-rolling, cape-wearing, big-hearted superhero to come!
208 pages / Reviewed by Sue Wilsher, teacher
Suggested Reading Age 7+
Other titles