Planet SOS: 22 Modern Monsters Threatening Our Environment (and What You Can Do to Defeat Them!)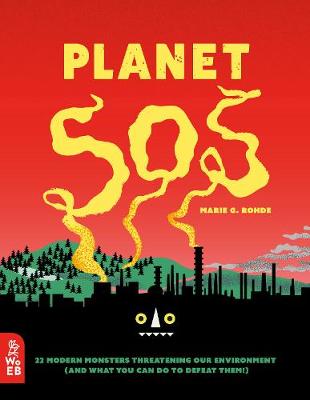 By Author / Illustrator
Marie G. Rohde
Genre
Adventure
Age range(s)
9+
Publisher
What on Earth Publishing Ltd
ISBN
9781912920211
Format
Hardback
Published
02-04-2020
Synopsis
Our planet is sending out an SOS. From global warming to plastic pollution, real-life environmental monsters are threatening our world at every turn. Now it's your chance to challenge them!
Meet the habitat-harming monsters that are ruining the Earth and learn how to vanquish each one -the fearsome Atmosdragon is heating the planet and causing global warming, while the bright-eyed Glareworm is busy creating light pollution and the Smogosaurus is filling our air with toxic fumes.
Mythical monsters have always represented humanity's greatest fears and the environmental monsters in Planet SOS are no different. In all, 22 monsters feature in Planet SOS and each is paired with the mythological beast it is based on. And each monster is accompanied by a Monster Card outlining the big, bad beast's weaknesses and how to use each one to your advantage.
Includes gatefolds highlighting monster-beating actions kids can take and a world map showing where these environmental problems can be found, glossary, index and source notes.
Reviews
Bryony
Planet SOS: 22 Modern Monsters Threatening Our Environment (and What You Can Do To Defeat Them) is a very clever book about the environment and climate change. The author has cleverly turned the biggest threats to the planet into beasts and suggested ways that the reader can vanquish them through action. Each beast is given a double page spread. The climate change issues such as the ozone layer, plastic, nuclear waste, urbanisation and electronic waste have been turned into monsters inspired by mythical creatures from all cultures and religions. I enjoyed the comparisons greatly and was inspired to think what else could be turned into beasts by researching mythical creatures. Unique to this text is the 'monster card' that features on each page. A fold out flap-turned-key explains the symbols and each of these cards could be used in an excellent game of Top Trumps. The cards are divided into actions that can be taken to slow the monsters down and actions that are happening to help the monsters grow. The actions include things such as switch off electronics, share resources such as libraries and transport, learn about the issues, reduce your carbon footprint and recycle. The illustrations are vivid and bold. Written from the point of view of the monster, the text clearly states what feeds them and how they keep going. The reader is expected to want to take action to slow this down. It Is a clever perspective and one that could be used as a stimulus for writing in an Upper Key Stage 2 classroom. An excellent world map showing where the monsters live and which ones can be found world wide finishes the book. It is interesting to look at the world this way. The glossary is thorough and excellent as is the Act Now section, which presents the reader with some simple steps they can change. A highly enjoyable and thought provoking book. 60 pages / Ages 9+ / Reviewed by Bryony Davies, teacher
Suggested Reading Age 9+
Other titles