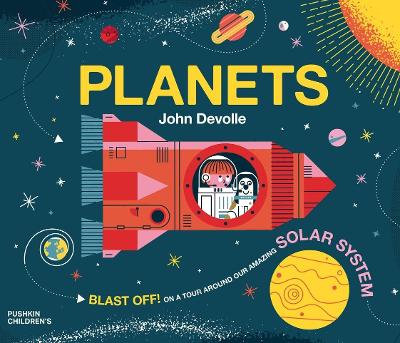 By Author / Illustrator
John Devolle
Genre
Non Fiction
Age range(s)
3+
Publisher
Pushkin Children's Books
ISBN
9781782693444
Format
Hardback
Published
01-09-2022
Synopsis
The perfect picturebook to introduce little minds to big ideas! Planets combines bold, colourful illustrations with jokes and incredible science facts to take young readers on a fun-filled journey across the solar system. On the way they will learn all about the planets, and find out the answers to such important questions as: Why does Venus smell so bad? Why aren't there many birthday parties on Neptune? and What would happen if you tried to eat your dinner on Mars?
Reviews
Maria
No child will ever need to consider how boring and dull life is ever again as this book will open their eyes to reality! Get ready for a fun fact, epic adventure into the solar system where you will learn incredible facts along the way. From spinning speeds, to gravity and the planets, this is a fantastic book for all children. 
Planets will trigger no end of questions and awe and wonder for the world around them and above them. Can we live on Venus with its volcanoes? Or Mars without gravity? Or even Saturn with its lovely rings? Through each planet, we get an insight into what life would really be like if we lived here, with even just 1 birthday every 164.8years on Neptune. So... how is life on Earth?
Picture book / Reviewed by Maria Faithorn, teacher
Suggested Reading Age 5+
Other titles