Power to the Princess: 15 Favourite Fairytales Retold with Girl Power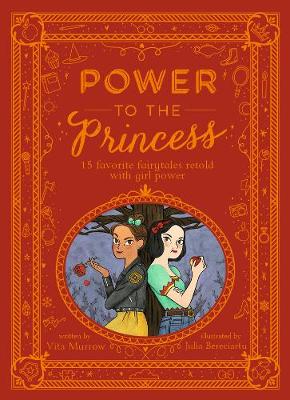 By Author / Illustrator
Vita Murrow, Julia Bereciartu
Genre
Fairy Tales & Folk Tales
Age range(s)
7+
Publisher
Frances Lincoln Publishers Ltd
ISBN
9781786032027
Format
Hardback
Published
06-09-2018
Synopsis
"Brilliant." - Kirkus Reviews, starred review

What if princesses didn't always marry Prince Charming and live happily ever after? In this stunning anthology - elegantly presented in a red, clothbound hard cover with gold-toned metallic debossing - 15 favourite fairytales have been retold for a new generation. These princesses are smart, funny and kind, and can do anything they set their minds to.

Focused on issues including self-image, confidence, LGBTQ, friendship, advocacy and disability, these stories are perfect for sharing between parents and children, or for older princesses or princes to read by themselves. They teach that a princess is a person who seeks to help others, is open to learning new things, and looks for ways to add purpose to their lives and the lives of those around them.

Get reacquainted with these powerful princesses:


Snow White - champion of real beauty


Sleeping Beauty - specialist on sleeping disorders


Thumbelina - music producer and advocate


Rapunzel - world-famous architect


Belle the Brave - undercover agent


Elisabeth and the Wild Swans - fashion designer


Cinderella - prime minster and businesswoman


Star and the 12 Dancers - dancer


The Goose Girl - stand-up comedian


Princess Sevinah (and the Pea) - founder of the Fairyland Dating Service


The Snow Queen - winter sports coach


The Little Mermaid - advocate for peace between mer-people and humans


Zade - storyteller (of 1001 tales) and businesswoman


Evangeline (The Frog Princess) - natural historian


Little Red Riding Hood - environmentalist and Princess of the Wolves


Power to the princess!
Reviews
Sian
Well where do I start with this book? What an empowering and beautiful depiction of an array of timeless classics such as Beauty and the Beast, The Little Mermaid and many more. All with a feminine twist but not singling out male readers. I love the sense of fulfilment and belonging each story gives its readers. Gone are the days where women can only work in certain jobs and it's so fascinating to be able to explain to your niece's that if they want to be an astronaut they could be because girls can be whatever they want to be - just as boys can be. With many schools now opting to focus on 'Famous Females who changed the world' and many other books centred around that idea, it's refreshing to read something a little more light-hearted but equally as powerful as the non-fiction books heaped in historical facts. From my experience, young girls can relate more to stories and this book allows just that to happen. I've read a few of them to my class and would choose them for PSHE purposes when thinking about what we want to be when we grow up, addressing barriers in confidence and also enabling children to focus on key attributes of the characters that they would like to be like one day. I would also use this in literacy to develop vocabulary and the notion of what a character description should be and should include. Very few books have clear cut and vivid imagery at the forefront of their character descriptions and, as someone who teaches children to write them, I've had to find or make my own resources when I haven't been scrabbling around for readymade ones. However, the first story in this book - Belle the Brave - allowed me to highlight key adjectives to pinpoint a character's appearance and personality. This is a very well written book with stunning colour pictures. There are many ways this book can be used but it can definitely be used to embed literacy skills and to gain knowledge and understanding of the wider world through fiction; something that I feel benefits younger children and enables them to develop their imaginations. I am so pleased to have been given the opportunity to review this book and I look forward to using it within my own teaching in the future - a definite credit to have one of these in your book collection. 96 pages / Ages 6+ / Reviewed by Sian S Rankin, teacher.
Suggested Reading Age 5+
M.
These are fairytales with a really positive twist! The princesses are not the traditional passive characters, where adventure happens around them. In this book, they are adventurous, practical and independent. They give readers a really great message and I would heavily recommend reading these with boys as well as girls. It's a great book for adults to read with children. There is some complicated language in there that less confident young readers would struggle with independently but the vocabulary does spark interesting conversation. Aesthetically, the book is stunning! With a rich, velvet cover, the book makes a great gift and has an air of splendour and luxury. The illustrations combine traditional settings with modern fashions, with characters that readers find recognisable and relatable. The text can be quite dense making it tricky for children to navigate, so for the easily distracted, I would recommend an adult taking the lead. Confident, independent readers of eight years and over will cope well with this. Personally, I loved the message given to readers - it's a great take on traditional fairytales and provides a much more relevant depiction of women. I'll be buying it for all my friends and their kids for Christmas! 96 pages / Ages 7+ / Reviewed by M Hardy, teacher.
Suggested Reading Age 7+
Ellie

- Age 10
The physical book has a really nice feel to it and the pages are easy to flip. The front cover has a lot of textures which I really love, Vita makes me happy with the way she magpies from traditional stories and makes them her own. I would recommend this book to adventurous people who want to read about active. independent princesses.
Suggested Reading Age 9+
Other titles