Precious Catastrophe (Perfectly Preventable Deaths 2)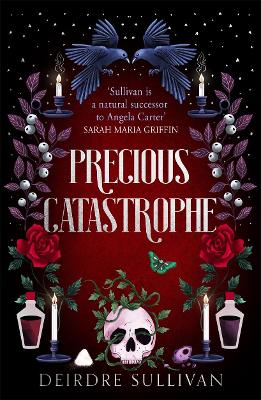 By Author / Illustrator
Deirdre Sullivan
Genre
Supernatural
Age range(s)
14+
Publisher
Hot Key Books
ISBN
9781471410680
Format
Paperback / softback
Published
30-09-2021
Synopsis
The utterly compelling and darkly magical sequel to award-winning author Deirdre Sullivan's Perfectly Preventable Deaths
Look Madeline. You've lost your soul. You've lost your freedom. You've lost a bit of your sister. What else could go wrong? Catlin and Madeline are extraordinary sisters, living extraordinary lives - in a place that seems entirely ordinary, but which in fact seethes with secrets, both sacred and sinister. Ballyfran is a village where, for centuries, people who are not quite human have gathered. Catlin has already fallen foul of one such creature - a dark, vicious predator who almost killed her - and only Madeline giving up a part of her own soul was able to bring Catlin back from the brink of death.
Now, the girls are making their strange new lives: Catlin, haunted by what happened to her, is isolated and bereft; Madeline is learning ancient magics under the tutelage of local wise woman Mamo. Learning that magic isn't mindfulness and hats. It's work - hard work. And Madeline knows she has to keep watch. On her sister. On the things that happen. Notice things before they start to happen. And before long, they do...
Q&A with author Deirdre Sullivan
Reviews
Linda
The sinister, mysterious story continues in this sequel book, it's not as gory as Perfectly Preventable Deaths but it's just as compelling. This author knows how to keep her audience engaged until the very last page...
Precious Catastrophe begins a year after the tragic, macabre events of Perfectly Preventable Deaths and the twins Maddy and Caitlin are still coming to terms with the consequences of those events. Maddy knows that she has to keep a look out for her sister, look for signs that she didn't completely come back from the dead but Caitlin will not confide in her. She prefers to pray to the wooden statue of Mary in the local church, but are her prayers as innocent as Caitlin believes? Their stepfather Brian keeps going away on unexplained trips, what is he up to? Their mother is quiet and not her usual self, is she coping?  The secrets and lies that surround this town are on the verge of destroying the relationship between these girls; can they find their way back?
This sequel is suitable for the 13+ confident reader. It does have its sinister moments of abuse, possession, witchcraft and animal abuse but not in the same depth as the first book. It also has some very dark humour moments, that at times weaken the plot. This sequel book could be read as a stand alone as the author provides a back story along the way to fill in any gaps. A great book for book clubs as there are many avenues for discussion. Another good read that completes the story for the dark Halloween season.
432 pages / Ages 13+ / Reviewed by Linda Brown, school librarian
Suggested Reading Age 14+
Katrina
Precious Catastrophe is an amazingly spellbinding book containing many dark secrets and happenings. Following on from Perfectly Preventable Deaths (the first novel in the series), we see events pick up a year on from the last time we saw Maddy and Catlin. Told from the dual perspectives of the twin sisters, we see how the toll of events from a year ago affect their lives in the present.
Maddy is becoming more proficient in her witchcraft under the tutelage of Mamo, although this is at the cost of seeing her friends and family. Meanwhile, Catlin turns to religion and prayer in order to find some comfort and solace following major trauma.  When Catlin's prayers and trust are misplaced and she becomes consumed by an evil spirit, as well as their step-father Brian not being what he seems, the girls must work together to fight for their lives. They discover even more secrets and ghostly goings-on along the way.
This is a fantastically compelling book, which although second in a series could easily be read as a stand-alone. I would recommend the book for older readers only due to the many dark and traumatic themes.
432 pages / Reviewed by Katrina Waldron, school librarian
Suggested Reading Age 14+
Other titles