Perfectly Preventable Deaths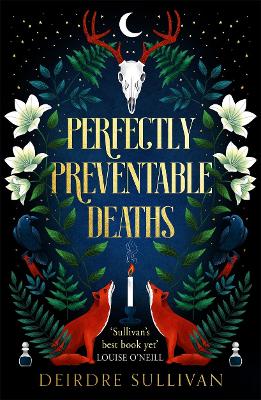 By Author / Illustrator
Deirdre Sullivan
Genre
Suspense & Thrillers
Age range(s)
14+
Publisher
Hot Key Books
ISBN
9781471408236
Format
Paperback / softback
Published
30-05-2019
Synopsis
'Sullivan has an eye for the uncanny, a taste for the macabre, and a gift for beautiful prose. Perfectly Preventable Deaths is her best book yet.' Louise O'Neill
Sixteen-year-old twins Madeline and Catlin move to a new life in Ballyfrann, a strange isolated Irish town, a place where the earth is littered with small corpses and unspoken truths. A place where, for generations, teenage girls have gone missing in the surrounding mountains. As distance grows between the twins - as Catlin falls in love, and Madeline begins to understand her own nascent witchcraft - Madeline discovers that Ballyfrann is a place full of predators. And when Catlin falls into the gravest danger of all, Madeline must ask herself who she really is, and who she wants to be - or rather, who she might have to become to save her sister.
Sequel: Precious Catastrophe
Q&A with author Deirdre Sullivan
Reviews
Linda
Perfectly Preventable Deaths is a slow paced but totally engaging book. It has got it all; relatable main characters, witchcraft, mystery, suspense with a dash of romance. The author clearly knows her craft as she is fantastic at building an atmosphere that compels the reader to keep turning the page...
Maddy and Caitlin are 16-year-old twins, who move to a small Irish town called Ballyfrann. This is a town where everyone knows everyone else, but also have their secrets. The town also has a disturbing, unsolved mystery, as for many years young girls have disappeared in the surrounding mountains. The girls, so close before coming to this town, now seem to be drifting apart. What will the consequences be as they go into these different directions?
This sinister story is only suitable for the confident 14+ reader as some of its content is quite disturbing at times; *a needed trigger warning here, as there are scenes of disturbing animal abuse (not sure that these scenes needed so much detail, especially in a YA book) and mild gore that may linger in the mind*. The plot also contains scenes of a controlling, abusive relationship and confusion of sexuality, as one of the twins questions their feelings for a friend.
This is not a book for the sensitive reader. However, in saying all of this it would be a good read for book clubs as there are so many areas for discussion and debate. I'm now interested in reading the next book, as I'm curious how the girls will cope in this sinister town. A perfect read for the Halloween months.
368 pages / Reviewed by Linda Brown, school librarian
Suggested Reading Age 14+
Other titles