Prehistoric Beasts: Discover 7 prehistoric animals with incredible pop-up pages!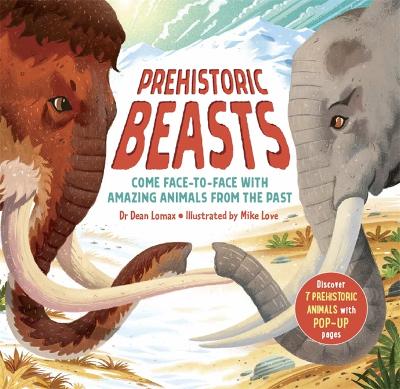 By Author / Illustrator
Dean Lomax, illus Mike Love
Genre
Animals
Age range(s)
7+
Publisher
Templar Publishing
ISBN
9781800782099
Format
Hardback
Published
02-03-2023
Synopsis
What did a penguin's great, great, great, great, GREAT grandparent look like? Find out with incredible POP-UP pages!  Palaeontologist Dr Dean Lomax takes a closer look at seven wild animals and, using fossil clues, reveals who their prehistoric relatives were.
From a mighty whale to a tiny dragonfly, find out about the wild creatures and their animal families today. Then open the fold-out pages to reveal awesome pop-ups, bringing you face-to-face with their long-extinct ancestors. Go head-to-head with the woolly mammoth, meet the mega shark Megalodon and get to know the prehistoric penguin named Icadyptes. Discover how these animals lived long ago, how they are different to their modern relatives - and how they are the same.
Full of fascinating facts, bright illustrations and real fossil finds, meet PREHISTORIC BEASTS of the past.
Reviews
Sharon
Well, this book was a bit of a surprise, the children loved the pop-ups. It isn't often we have pop-up books in school and each page was met with oohs and ahs, however the children all agreed that the Alligator page was their absolute favourite!  The moving parts are well protected, each inside a thick card, triple page spread and they are all impressive. So much so the children almost forgot to read the text!
Prehistoric Beasts: Discover 7 prehistoric animals is another fabulous book to add to a growing range of non-fiction texts to encourage further reading and broaden the children's knowledge of the world around them. This one is a cracker! S (aged 9) thought that the book was really interesting and she learnt a lot about different animals. Her favourite fact was that sea cows are the elephant's closest living relatives.
On a quick initial flick through, one might pass this book by. Class 11 recommend that you don't. It is full of all sorts of fascinating facts - which will also really help with an animals topic. 
16 pages / Reviewed by Sharon, teacher
Suggested Reading Age 7+
Other titles