Princess Minna: The Big Bad Snowy Day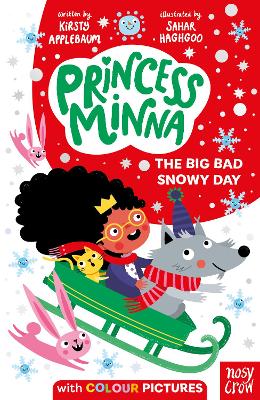 By Author / Illustrator
Kirsty Applebaum, illus Sahar Haghgoo
Genre
Young fiction
Age range(s)
5+
Publisher
Nosy Crow Ltd
ISBN
9781839941863
Format
Paperback / softback
Published
06-10-2022
Synopsis
Princess Minna loves to sort out mix-ups and mishaps in the kingdom! In this full-colour, illustrated chapter book, join her on a funny, exciting adventure to help Granny and her friends, and still have time for a snowball fight!
Princess Minna lives in Castle Tall-Towers with the King and Queen, Raymond the Wizard and her best dragon friend, Lorenzo. There are often mix-ups and mishaps in the kingdom and Princess Minna loves to sort them out!  She can tame unicorns, kiss frogs and fight dragons (apart from Lorenzo) and she is very good at fixing things before it's time for bed.  In The Big Bad Snowy Day, snow has fallen overnight and poor Granny Hoody is snowed in! Princess Minna has to fix things. But Granny Hoody lives in the dark forest and there's a big bad wolf who lives there too. Can Princess Minna find Granny's cottage or will she stray from the path and meet the WOLF instead?
Full of colourful illustrations, these short, funny stories are perfect for readers just moving on from picture books and visual readers.
Reviews
Lucy
Another adventure with Princess Minna. In Princess Minna: The Big Bad Snowy Day, Minna wakes up and sees snow everywhere. She has a snowball fight and builds some dragons but she notices a problem. Her poor grandma can't get out of her house because there is so much snow, so she sets off to try and help her. Her journey includes lots of adventures - will she get to her Grandma's house to help?
This story is suitable for young readers who are just building their stamina and confidence with chapter books. The text is quite large and there isn't too much on each page; there are plenty of large pictures to break up the text. The pictures are colourful and cartoon-like which young children would enjoy.
96 pages / Reviewed by Lucy Newton, teacher
Suggested Reading Age 7+
Other titles