Princess Sophia Duleep Singh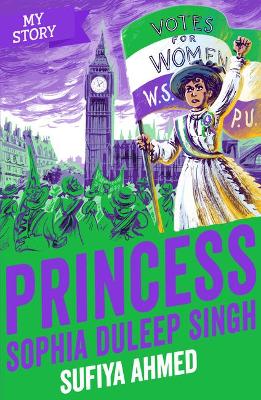 By Author / Illustrator
Sufiya Ahmed
Genre
Biographies & Autobiographies
Age range(s)
9+
Publisher
Scholastic
ISBN
9780702313714
Format
Paperback / softback
Published
06-01-2022
Synopsis
My Story: Princess Sophia Duleep Singh - the thrilling story of the princess and suffragette. Born in Britain to Indian and Egyptian parents, Princess Sophia Duleep Singh was a prominent suffragette and campaigned for the women's right to vote. Explore Sophia's incredible life with My Story. Perfect for any child wanting to learn more about history's untold stories Great background reading for Key Stage 2 & 3 My Story: exciting stories with reliable and accurate historical detail Experience history first-hand with My Story.
Reviews
Donna
Before reading Princess Sophia Duleep Singh (My Story), I had not heard of Princess Sophia but since finishing the book it has made me have look more into the life of her and her family. Set in the late 1800s and early 1900s, it follows the life of Sophia and her royal family - her father being the rightful ruler of Punjab (The Maharaja Duleep Sing of Punjab).
It begins on the SS Verona on its voyage from England to India. However, the family is forced to disembark in Egypt - forced by Colonel Hogg (under instruction of the Viceroy of India), to prevent them from returning to the Punjab. Sophia and her siblings were born in England and have never been to India. Her father was made to relinquish his birth right when he was 10 years old, after his father had died.
The book covers many fascinating aspects of British life during this time and what the British Empire did to India, along with how long it took to travel to different countries such as India. The main part of the book is about Sophia's involvement with the Suffragettes. It was astonishing to read how horrendously these women were treated by the police - under the instruction of the government.
I would recommend this book to everyone! It is a very easy read which illustrates many inequalities in society during this time and the impact of a few rich people had on the lives of the poor and less fortunate.
208 pages / Reviewed by Donna Ritchie, teacher.
Suggested Reading Age 9+
Other titles