Professor Wooford McPaw's History of Cars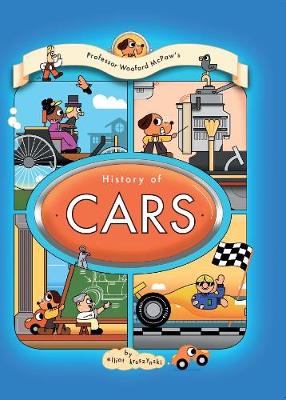 By Author / Illustrator
Elliot Krusynski
Genre
Non Fiction
Age range(s)
7+
Publisher
Cicada Books Limited
ISBN
9781908714954
Format
Hardback
Published
22-04-2021
Synopsis
The first in a series of books explaining the history of modern technologies (upcoming titles will include computers and planes), introduced and explained by a helpful (if somewhat arrogant) dog called Professor Wooford McPaw.

In this title, Professor McPaw explores the history of the car, starting with the steam engine in the early 1800s, the advent of the combustion engine in 1872, the popularisation of the car by Henry Ford in the early 1900s, the evolution of motor racing, luxury cars of the 1950s, the Japanese innovations of the 1970s, and finally the new technologies of electric and self-driving cars today.

The book is engagingly illustrated by Elliot Kruszynski, whose bright, clean, Scarry-esque style appeals to children across a broad age range. The Professor and his sidekick (in this case a car, but changing with each book), discuss the intricacies of each historical moment, lending a humorous, personal touch. Comic strip interludes capture key moments, like the first cross-country road trip by the wife of Karl Benz, inventor of the petrol motorcar; or the invention of Ford's assembly line.

Striking a refreshing balance between authoritative, clearly conveyed information, and witty, bright commentary, Professor Peyton McPaw will be a captivating tour-guide through the fascinating developments of the modern world.
Reviews
Lizi
Want to learn about cars? Lucky for you Professor Wooford McPaw is extremely knowledgeable and will take you back in time to learn all about cars, from their initial design to what it expected in the future. This is a really informative book; it's easy to understand although there is a lot of information on each page - my husband and I have both learnt a lot whilst reading it to our daughter!
It's clearly laid out, easy to follow and the facts are all supported by fun illustrations that help to explain. This non-fiction book has a contents page and an index and is a good introduction to the genre; the text is mostly presented in short, clear text boxes which make it more appealing to reluctant readers.
This is a great book for children who have expressed an interest in motor vehicles, for learning about changes in technology over time or as a introduction to the world of non-fiction books.
64 pages / Reviewed by Lizi Backhouse, teacher
Suggested Reading Age 7+
Other titles