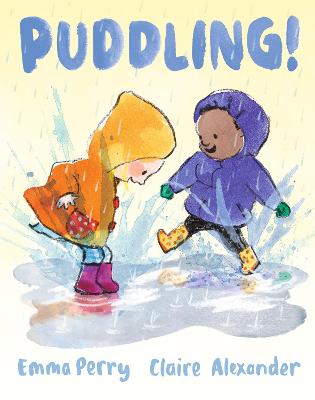 By Author / Illustrator
Emma Perry, illus Claire Alexander
Genre
Picture Books
Age range(s)
3+
Publisher
Walker Books Ltd
ISBN
9781406396713
Format
Hardback
Published
05-05-2022
Synopsis
Clouds gather, skies darken, rain drops, puddles appear... Let's go puddling!  Pull on your wellies and button up your coats for this playful, interactive story all about children delighting in the joy of splish-splash-sploshing in muddy puddles with their friends, and cherishing snuggles on the sofa afterwards. Emma Perry's picture book encapsulates the joy of being outside whatever the weather, and is paired perfectly with Claire Alexander's watercolour artwork to recreate splashing puddles and raindrops!
Reviews
Elen
Puddling is a joyful story for young children (2+) about the joys of sploshing in puddles - and knowing just the right time to come home and get warm.
Which child doesn't love splashing around in puddles after the rain and Puddling celebrates those moments of joy after the rainclouds! Three small children and their parent each leave their flats in a high rise to go to the park and find some puddles.  The text is delightful for young children, focusing on the 'Splish, Splash, Splosh' sounds of puddling, perfectly complemented by images of small children being active and covered in mud.
It's lovely to have a story that makes a celebration out of rain, reminding children how much fun they can have when the clouds go away!  There is a diverse mix of children and parents in the story, and the cityscape they play in is beautifully observed and full of life. My favourite moment is probably the warm cuddles at the end of the book, when the children come home with wet socks and cold toes but full of happiness. Definitely a book to share while it's raining, and when you come home after 'puddling'!
Picture book / Reviewed by Elen
Suggested Reading Age 3+
Other titles