Queen of Gods (House of Shadows 2): the unmissable sequel to Daughter of Darkness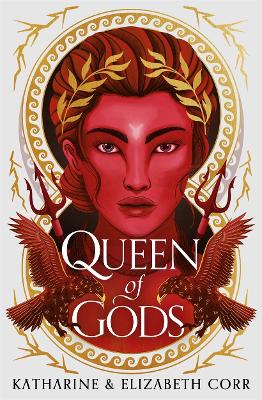 By Author / Illustrator
Katharine & Elizabeth Corr
Genre
Myths & Legends
Age range(s)
14+
Publisher
Hot Key Books
ISBN
9781471411281
Format
Paperback / softback
Published
20-07-2023
Synopsis
The second installment in The House of Shadows duology, a gripping fantasy inspired by Greek myth. 

Return to the Underworld...  Deina has finally found what matters most to her in all the world. And lost it. To save the one she loves, she's bound herself to the Underworld and an endless future of darkness.  But not even her sacrifice is enough to secure Theron or her friends' safety in the mortal realm. Aristaeus has seized power in Thebes and his tyrannical reign is a constant, looming threat to their lives.  So when Deina is offered the chance to destroy him and the gods altogether, she sets out on a new quest. But to succeed, she must turn away from everything she holds true.  In a game with the gods, the rewards are infinite . . . but the punishments are eternal.

Be prepared for a nail-biting race for survival in this breathtaking sequel to Daughter of Darkness.   Find out more from authors Katharine and Elizabeth Corr.
Praise for Daughter of Darkness:  'Everything I want in a fantasy and more' - Mary Watson, author of Blood to Poison.  'A book of smart, savage beauty' - Josh Winning, author of The Shadow Glass.  'Deliciously dark, dangerously exciting, absolutely immersive fantasy from two goddesses of storytelling' - Sinead O'Hart, author of The Eye of the North.  'Rich with mythology, this twisty adventure spins a new story from old - one that will leave you breathless, broken and begging for more' - Bex Hogan, author of the Isles of Storm and Sorrow trilogy.  'A beautiful breath-taking adventure' - Holly Race, author of Midnight's Twins.  'A dark and deadly foray into the Underworld; one of high adventure and slow burning romance' - ReadingZone.
Reviews
Clare
Feisty Deina is no fan of the duplicitous Gods. Nor is she a fan of the war-mongering Aristaeus but, bound by the seeds Thanatos commanded her to swallow in order to save her friends, she is tied to the Underworld. Hades wants her daughter to join her and become a God but despite conflicting emotions and a disturbing voice in her head, Deina is desperate to escape. Increasingly aware of the trap that awaits her friends, Deina finds an unlikely ally in Thanatos. Swayed by his feelings for the captive, he plots an unlikely and dangerous escape.
Queen of Gods, the second book in the House of Shadows series, picks up almost immediately after the first - Theron and his friends are free but in hiding; Deina forfeited and bound to the darkness. It's a tale of unlikely allies, dark deeds and an endless quest for power. The seemingly hapless Theodesmioi - a people under the control of capricious Gods. It becomes a high stakes, bloody battle and Deina is the crux of it all.
Like the first book Daughter of Darkness, there is a quest and an Indiana-Jones style series of deadly pitfalls. Beloved characters fall and the pursuit of Deina and her friends feels relentless. Yet, there's still room for humour, excitement and a complex love triangle. This is a gripping fantasy adventure and a pleasing twisty Gods vs Mortals race for survival.
432 pages / Ages 12+ / Reviewed by Clare Wilkins, school librarian
Suggested Reading Age 14+
Lorraine
Deina has been forced to stay in the Underworld after eating some seeds to save her friends, and must now face her mother, Hades, and find out what the future holds. It seems all hope is lost for her dreams to be free and sail the ocean. Carrying her forward is her belief that the Theodesmioi should be freed from the Gods' power and be able to make choices of their own, but will that ever be possible now?  Helped by Thanatos, the God of Death, can Deina use her demi-god status and powers to overcome her birthright and the wishes of the Gods?
I could not wait to read Queen of Gods, sequel to the first book in the House of Shadows series, Daughter of Darkness, and it did not disappoint. From the outset it is full of gods, power, plot twists and adventure. Once again, Deina is determined, calculating and strong. The book has romance, grief, betrayal, and torture, coupled with excellent descriptions of the environments that at no point become laborious or overbearing. Instead, the reader is immersed in the worlds of the Gods, or faced with the terrifying creatures and powerful rulers that populate this wonderfully created world.
Inspired by Greek myths and legends, the authors have captured the essence of the ancient worlds and brought them to life in a fast-paced narrative, full of twists, turns and the horrifying realities of people abused by power, be that Gods' or humans'. A brilliant duology brought to its final conclusion, I could not put the book down and would highly recommend this for teens who like adventure, power, and an underdog.
420 pages / Reviewed by Lorraine Ansell, school librarian
Suggested Reading Age 14+
Other titles