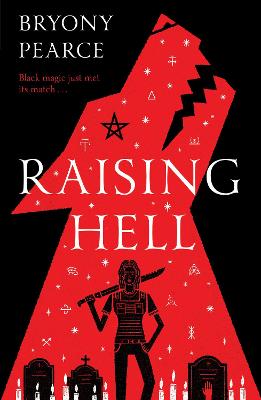 By Author / Illustrator
Bryony Pearce
Genre
Horror
Age range(s)
14+
Publisher
UCLan Publishing
ISBN
9781912979547
Format
Paperback / softback
Published
03-06-2021
Synopsis
Meet Ivy Elisabeth Mann -' I know what you are thinking, but I'm not half faery, or demon, or angel or anything like that. Mum's a Body Shop consultant living in a bungalow in Birmingham and Dad enters crosswords.'
Once upon a time, Ivy and her friends did a very stupid thing and now there's a rift letting dark matter into the world. Dark matter that manifests as black magic which actually works. Now every teenager with access to the Internet is raising hell. Literally. Ivy's doing her best to stem the tide, but her new job working school security barely pays the bills and there's only so much one girl with a machete (and a cat possessed by her own dead grandmother) can do against the forces of evil.
Now she's facing a teenage goth with an attitude, her ruthless but frustratingly handsome brother, a dark cabal with a terrifying agenda and a potential zombie apocalypse. Ivy losing her job might be the best thing to happen to the world...
Video and Q&A with Raising Hell author Bryony Pearce
Reviews
Kerenza

- Age 14
I really enjoyed Raising Hell because I liked the theme of black magic. This book helps to imagine what would happen if magic was actually real and people were able to summon and control it, especially teenagers. I enjoyed how the plot deepened and you discovered more and more about the characters and their relationships as you read. I greatly enjoyed how Ivy, the main character, developed and grew through the plot. My favourite part of the book was when Ivy defeated the zombies and the hell hounds in the Emporium. My favourite character was Norah because I liked how she was a competent witch who was able to summon hell hounds singlehandedly.
I would recommend this book to anyone aged 12-14 who enjoys books about magic and supernatural forces or dystopian fiction.
240 pages / Reviewed by Kerenza
Suggested Reading Age 14+
Emelia
Raising Hell is based in London and is a story with magic, love, friendship and trying to right the wrongs. It begins with Ivy Mann in her late teens working at a school with Matilda on her hip. It throws you right in to the mix, making you wonder how they got to this point in the first place.
The story then takes you back to when Ivy and her friends loose someone very close to them and find it hard to let go. Ivy agrees along with her boyfriend Danny to try a spell to raise the dead, using the Necronomicon, for their friend Elena who is finding the loss hard to come to terms with. Ivy and Danny never thought it would work and that was their first mistake.
I was completely hooked from the start and wanted to know more. It was like a film playing in my mind as I read the story, desperate to find out what would happen next. I found it to be a nice read, some Latin to try your hand at. I had the occasional thought of....... What if I say this correctly?.........Don't worry, it doesn't work.
240 pages / Ages 13+ / Reviewed by Emelia Helliwell, school librarian
Suggested Reading Age 14+
Clair
Raising Hell is an action packed fantasy adventure. A very compelling read suited to fans of Charlie Higson, Darren Shan, The Red Eye Series and Buffy the Vampire Slayer.
Ivy Elizabeth Mann is a strong lead character. She blames herself for opening a rift that has let dark matter into the world and to be fair, it was partly her fault. Whilst Raising Hell is a romping good read, it also deals with the more serious side of grief, bereavement and abandonment. Violet was killed by a hit and run driver. Her girlfriend, Elena, persuades Ivy and her friends to dabble with dark magic in an attempt to bring Violet back to life. They do not really believing that the magic would actually work and the spell they cast has terrible consequences.
As a result of the rift that they open teenagers can now perform black magic, releasing hell hounds, zombies and untold horrors into the world. Ivy is determined to make up for her part in this and has been paying penance ever since, going above and beyond in her job as a security guard. Think Buffy the Vampire Slayer meets Shaun of The Dead! Ivy is also alone now, apart from her gran whose soul is trapped in the body of a tabby cat. Another attempt at closing the rift that didn't go quite as planned!
An enjoyable, fast paced roller-coaster of a read with plenty of humour thrown in. I love the snarky comments between Ivy and Ortega. "I don't need to outrun the bear – I only need to outrun you." "You're on a crutch," Ortega pointed out acidly. "You're not outrunning anyone." There is a lot to like about this book.
240 pages / Reviewed by Clair Bossons, school librarian
Suggested Reading Age 14+
Other titles