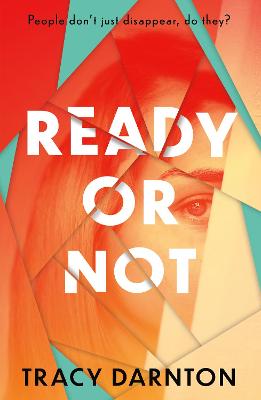 By Author / Illustrator
Tracy Darnton
Genre
Suspense & Thrillers
Age range(s)
14+
Publisher
Little Tiger Press Group
ISBN
9781788953313
Format
Paperback / softback
Published
12-05-2022
Synopsis
Shared family holidays at Creek House have been the backdrop to Millie's summers since forever. Hanging out with the other kids - Matt, Charlie, Jem and her best friend Kat - has made it her favourite time of the year.
But this holiday things are different - the childhood games that once filled their days have lost their appeal to everyone except Millie. It's not until the final night that the others agree to a game of hide and seek. But in the time it takes Millie to count to twenty, Kat vanishes.   One year on, and struggling to come to terms with the events of last summer, Millie persuades the others to return to Creek House. It's meant to give them closure, but it could be a chance to find out what happened. After all, people don't just disappear, do they?
A tightly plotted thriller, perfect for fans of Karen McManus, Holly Jackson, THE GREAT GODDEN and WE WERE LIARS.
Q&A and Video with author Tracy Darnton
Reviews
Clare
Millie adores the shared summers with family and friends at Creek House. Whilst the adults reminisce over their youth, the children have the run of the idyllic estate. But as the children become teenagers, tensions and differences emerge and the youngest, Millie, realises that the carefree summers of games and parties will soon be over.
Clinging to her childhood memories, Millie wants (what she realises will be) the last summer at Creek House to be filled with the games of their youth. Roping in her reluctant older friends, she organises a last night party and a game of hide and seek that goes tragically wrong. When her closest friend Kat disappears, the families are frantic. Has she had an accident, is she lost, taken or worse? As weeks go by with no word of Kat, Mille and the others return to their lives before a final reunion a year later when long-held secrets begin to uncover the mystery of Kat's disappearance.
Ready Or Not is a genuine page-turner - twists, turns and intrigue abound and readers will want to devour the book in one sitting. The characters are believable, everyday teens navigating young adulthood and realising that not all friendships last forever. Mille is a frustrating but determined protagonist and far more complex than she initially seems. The ending is breath-taking and unexpected and will linger in your mind long after you have finished the book.
I think this would be a perfect book club read as there are so many lingering questions and potential resolutions. A simply riveting book that has made me want to seek out anything else Tracy Darnton has written!
288 Pages / Reviewed by Clare Wilkins, school librarian
Suggested Reading Age 14+
Other titles