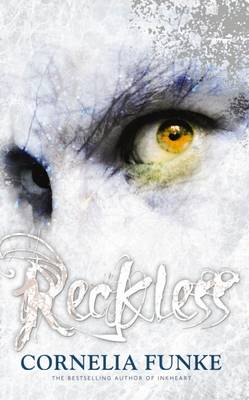 By Author / Illustrator
Cornelia Funke
Genre
Fantasy
Age range(s)
11+
Publisher
Chicken House Ltd
ISBN
9781905294855
Format
Hardback
Published
14-09-2010
Synopsis
For the first time in his life, Jacob Reckless is afraid. For years he's stolen across to another world. A dark enchanted place he's loved for its treasure, secrets and dangers. Until now. Will, his younger brother, has followed him with terrible consequences: the boy will turn to beast; the girl he loves will break her heart and chaos will rule forever, unless Jacob can spin a fairytale to save them..
Reviews
Anastaisia
Reckless is an exciting book because you always want to know what happens next. I recommend this book because it gets you hooked right from the first page and the ideas in this book are wonderful and strange.
Suggested Reading Age 11+
Rosie

- Age 13
I'd recommend this book because it is both fast-paced and extremely descriptive all in one. You travel into the mirror world with Jacob and feel his worry for his brother, his excitement at the world around him and the darkness of the mirror world. Clara is my personal favourite character because she is supportive yet realistic and extremely brave as she fights for Will. I love the way this book has loads of twists round every corner and you never know what to expect. If you enjoy escaping to a complex fantasy world through a book, then Reckless is for you. The story is far more complex than I have written in the plot section but if I was to write down all the amazing twists and turns in this book then you would be here for hours! The only thing I do not like about this book is that it ends on a cliff hanger and requires concentration if you want to pick up all the clues for the sequel to come... This book has to be read, you won't regret it!
Suggested Reading Age 11+
Other titles